Spirulina smoothie is a healthy green morning drink for weight loss and glowing skin. Super tasty high-protein after-workout vegan smoothie mix.
Love at first sip - my feelings for this creamy dessert-like smoothie with anti-inflammatory properties that looks and tastes sooo good.
Healthy Spirulina Morning Drink
Are you looking for easy, low-calorie on-the-go breakfast ideas?
Want to feel like a Superwoman (or Superman) all day long? 🙂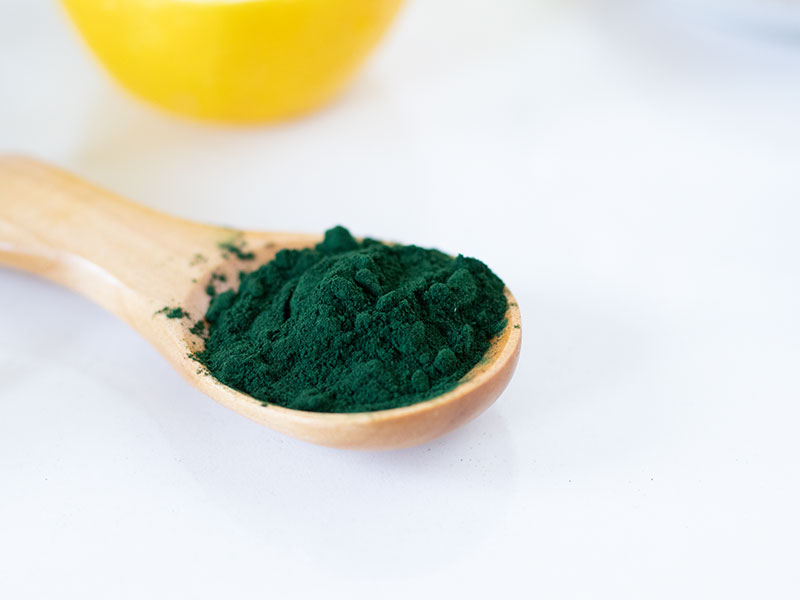 Meet the most pleasing energy-boosting smoothie that will keep you powered up and help you feel your best. It's dairy-free, gluten-free, rich in antioxidants, fiber-packed, and so nutritious. We couldn't ask for more!
This immunity-boosting smoothie cleanse packed with fat-burning, nutrient-dense ingredients is so filling and refreshing. In fact, you can enjoy it as a quick morning pick-me-up, as a recovery post-workout drink, or as a sweet and flavorful treat or snack any time throughout the day.
There are so many options. That's why it's the best!
Tasty Spirulina Smoothie Mix
Trust me, this vibrant spirulina smoothie is beyond delicious. You can't even taste spirulina flavor in it.
Although it has a potent earthy aroma, somewhat like seaweeds, its flavor can be easily masked by adding some wholesome naturally-sweetened fruits like banana, apple, or ripe kiwi.
It's amazing how you can get all that plant-based energy in a quick fruit-veggie detox smoothie with brilliant color, just like my kiwi smoothie for a flat belly.
So, let's get those vital nutrients in a tasteful smoothie glass right away!
Green Smoothie Recipe Ingredients for Weight Loss
In order to make this homemade weight-loss shake, we're going to use some fresh and simple everyday ingredients.
If you're in search of a healthy meal replacement (especially in the morning) for a light, bloat-free day, this gorgeous healing smoothie is just for you.
It'll not only fill you up until the next meal but it'll help you keep your digestion on track.
Truly, it has a magical effect on your body and health.
What you'll need?
Banana (for natural sweetness and creaminess)
Apple (contains pectin that feeds your good gut bacteria)
Ripe kiwi (rich in vitamin C and low in sugar)
Spinach (an excellent source of iron)
Spirulina powder (high in plant protein and powerful antioxidants)
Ground flaxseed (rich in healthy omega-3 fatty acids)
Fresh ginger (reduces inflammation and helps with digestion)
Lemon juice (freshly squeezed, helps in the absorption of iron)
Vegan protein powder (I used pea protein for an extra protein boost )
Water (we want to always stay hydrated, right?)
As always, you can find the full recipe with a list of ingredients with measurements in a printable recipe card at the end of this post.
Time needed: 5 minutes.
How to make a green spirulina smoothie for weight loss and glowing skin?

Blend

Add all ingredients to a high-powered blender and blend until smooth and creamy.
This smoothie is not overly sweet. Its sweetness will depend on the ripeness of banana and kiwi and the type of apple you'll use. I recommend you to taste and add a teaspoon of maple or agave syrup to achieve the desired sweetness.



Serve and enjoy

Pour your protein-rich smoothie into a big glass or jar. Top it with frozen blueberries and fragrant homemade granola (a million times better than any store-bought, yum!). Enjoy!


Spirulina Smoothie Benefits
Is this spirulina smoothie good for you?
Yes, certainly. This gut-friendly vegan drink will greatly improve your digestion and reduce inflammation in your body. It definitely is the most delicious way to enjoy this protein-packed superfood.
Beyond doubt, this vegan beverage is a real antioxidant powerhouse, considering all foods we'll use to prepare it. Furthermore, it's a wonderful way to get a strong dose of vitamins, minerals, proteins, and fiber in just one glass.
Also, it may reduce your blood pressure, improve muscle strength and endurance, and help you fight anemia (thanks to its high iron amount).
What does spirulina do to the body?
Spirulina is a type of blue-green algae that abounds with essential nutrients. It provides your body with quality protein (1 tablespoon contains 4 grams of complete protein), Vitamin B1, B2, B3, Copper, Iron, and other nutrients you need. Additionally, this superfood is an incredible source of antioxidants that effectively fight free radicals and protect your cells from oxidative damage. Due to its anti-inflammatory and anti-aging effects, spirulina is a fantastic food for healthy glowing skin, too.
Can you put spirulina in smoothies?
Absolutely! Maybe on its own, spirulina doesn't sound that appealing but it can be a great addition to your daily smoothies and juices. In this way, you won't even notice its marine flavor yet you'll reap all benefits mentioned above.
How much spirulina should I put in my smoothie?
I recommend you use 1 teaspoon dry spirulina powder per serving. Thus, its algae flavor won't overpower the other ingredients you'll use to make the smoothie.
What do you mix spirulina with?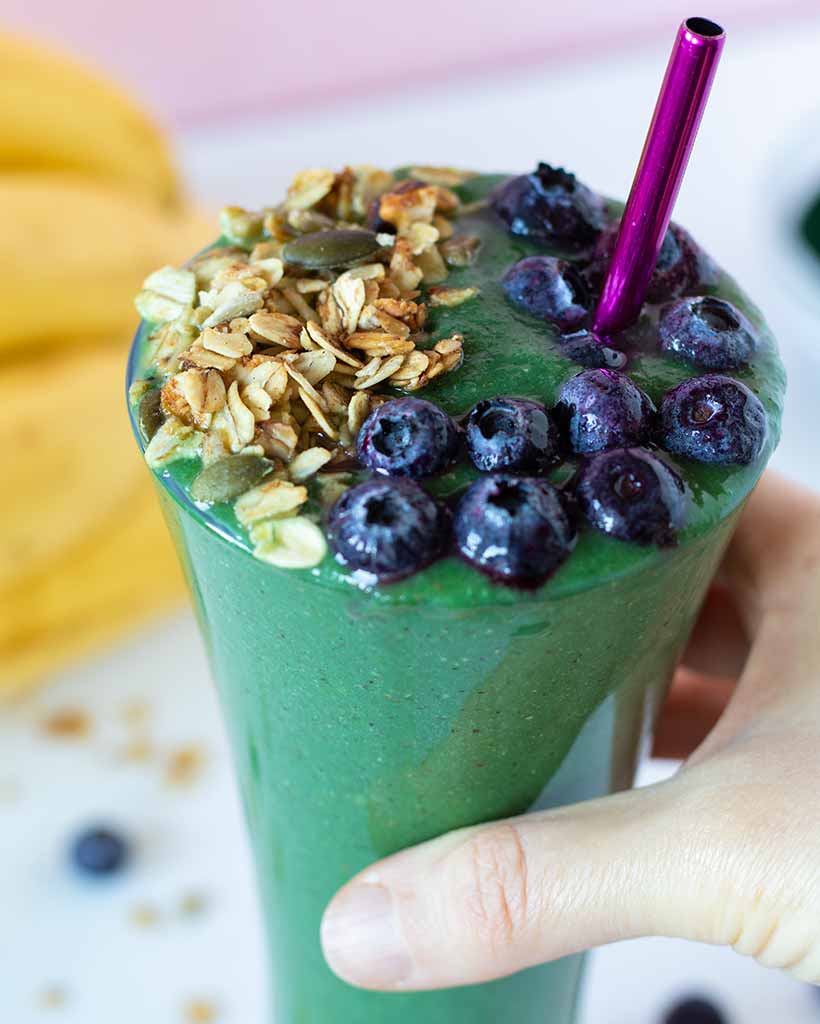 You can mix spirulina with other fruits and veggies like mango, pineapple, strawberries, oranges, blueberries, raspberries, pear, kale, avocado, cucumbers, hemp seeds, almond or peanut butter, and vegan protein powder of choice. Instead of water, you can use any non-dairy milk like almond milk, cashew milk, oat milk, or coconut milk. Also, you can add your preferred sweetener: maple syrup, agave syrup, date syrup, or stevia to make your smoothie extra sweet.
Looking for More Healthy Vegan Smoothies Recipes
Did you try this weight-loss-friendly green spirulina smoothie? If you tried it, please rate it, leave a comment below, and share your photo on Instagram with the tag @go_eatgreen and hashtag it #go_eatgreen. I would love to see your pictures and your comments just make my day!
Follow me on Pinterest for more easy and delicious vegan recipe ideas.
Love, Marinela💚