Jump to Recipe
Refreshing Apple carrot orange smoothie recipe without banana! Light, low-calorie multivitamin go-to breakfast or a healthy snack that tastes so good.
I'd like to share this simple carrot orange smoothie so you too can enjoy it today, even better, every day! I hope that it'll be your choice for this day, especially if you like something sweet without adding sugar or any additional sweeteners. You can add it to your clean eating diet list right now!
Carrot and Orange Smoothie Benefits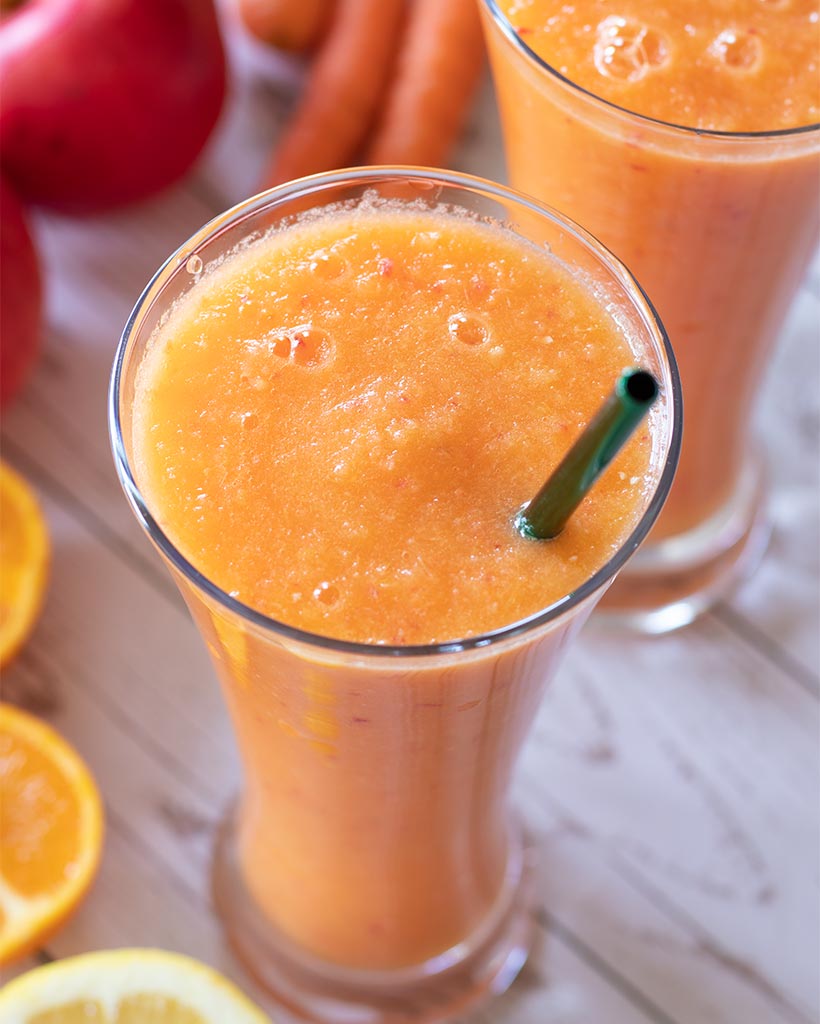 Sip on this creamy elixir to grant your body that plant-based power it craves! Loaded with immune-boosting antioxidants, it's a perfect smoothie recipe for you to be healthy and happy. I must mention that this delicious vegan drink will help you successfully fight the springtime blues. It actually makes you feel better and boost your immunity system fast. Just perfect for battling cold and flu in a natural way!
Does Carrot Smoothie Taste Good
Looking for a new affordable fruit blend to add to your smoothie routine? Try this flavorful orange-colored smoothie! Besides fresh carrots and apples, we'll combine oranges and lemon to give this smoothie a citrusy taste. This nutritious get-well mix will surely hydrate your body and renew your energy fast.
But wait, do you want to get some fruits and veggies into your kid's diet in a delightful way? Make this colorful carrot orange beverage that is hearty and healthy enough to be served for breakfast or after school snack. You can serve it in addition to these green fluffy pancakes or these perfect blueberry muffins. Picky eaters would love to eat their healthy rainbow meal. What a scrumptious recipe idea without added artificial colors or flavorings. Perfect for kids!
Time needed: 5 minutes.
How to make apple carrot orange smoothie from scratch?

This yummy carrot orange smoothie without milk is so easy to prepare. It's a great choice if you are on the go or short on time. An ideal meal for beginners who are just starting out on their plant-based diet.

Blend all ingredients

Place all ingredients in a blender or food processor. I used my Nutribullet to make this dairy-free apple carrot orange smoothie. Mix 1 apple, 3 medium-sized carrots, 2 oranges, 1 lemon juice (freshly squeezed), and 2 cups of water. Blend until smooth and creamy.

Serve immediately and enjoy

Serve your glass of homemade multivitamin smoothie immediately, dividing it into 2 big glasses or jars. Smoothies are best when enjoyed fresh and creamy. My recipe yields 2 big glasses but it's easy to halve or double it for larger batches.
Ingredients you need to make this no banana smoothie recipe:
Apple

Carrots

Oranges

Lemon juice (freshly squeezed)

Water
As always, you can find the full recipe with a list of ingredients with measurements in a printable recipe card at the end of this post.
Can we mix apple and orange together?
Absolutely! Apples and oranges make a great combo for smoothies or juices especially when combined with lemon.
Is this apple carrot smoothie good for you?
This incredibly delicious smoothie is weight-loss-friendly. Apples, oranges, and carrots are a good source of fiber which greatly supports gut health. In addition, they are rich in vitamins, minerals, and essential nutrients, especially oranges and lemons that are an excellent source of vitamin C. Moreover, carrots are an abundant source of vitamin A in the form of beta carotene. This important nutrient is vital for good vision, eye and skin health, and a strong immune system. Additionally, these organic wholesome ingredients with low sugar and low-fat content are valuable components of an effective healthy diet.
Why You'll Love this Apple Carrot Orange Smoothie. It's:
Antioxidant-packed

Anti-inflammatory

Energy-boosting

Mood-boosting

Vitamin C-packed

Vitamin A-packed, vision booster

Naturally-sweetened

Delicious beauty elixir
📖 Recipe
Need inspiration for more dairy-free smoothie recipes?
Love this orange carrot and apple smoothie? Pin it for later!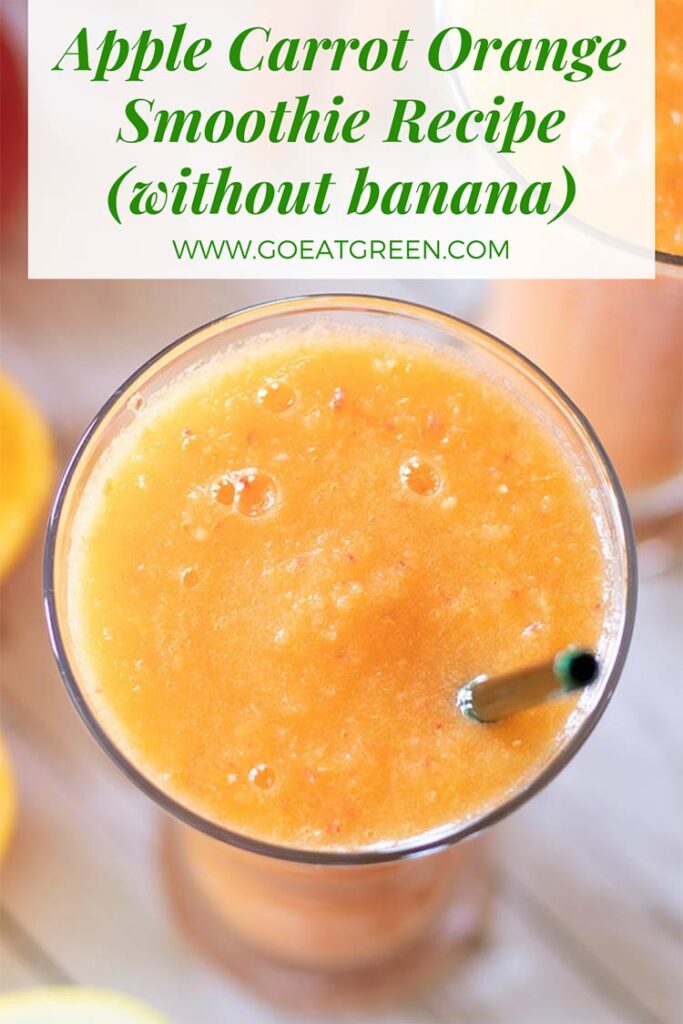 Made this delish no banana multivitamin smoothie recipe? If yes, please rate it, leave a comment below, and share your photo on Instagram with the tag @go_eatgreen and hashtag it #go_eatgreen. I would love to hear about your experience and your comments just make my day!
Follow me on Pinterest for more easy and delicious vegan recipe ideas.
Love, Marinela💚