Learn how to make a sweet homemade applesauce recipe, easy and quick with 3 simple ingredients in just 20 minutes. Best vegan side-dish, snack, or dessert (no sugar added).
Looking for a kid-friendly, refined sugar-free treat for the fall or winter season?
Need a clean eating baby food that's easy to digest? Here is the best recipe for you.
If you love apples as I do, you'll surely love these 6 ingredient apple breakfast cookies or this sugarless and fluffy apple cake with walnuts and cinnamon.
Unsweetened Applesauce Recipe Without Sugar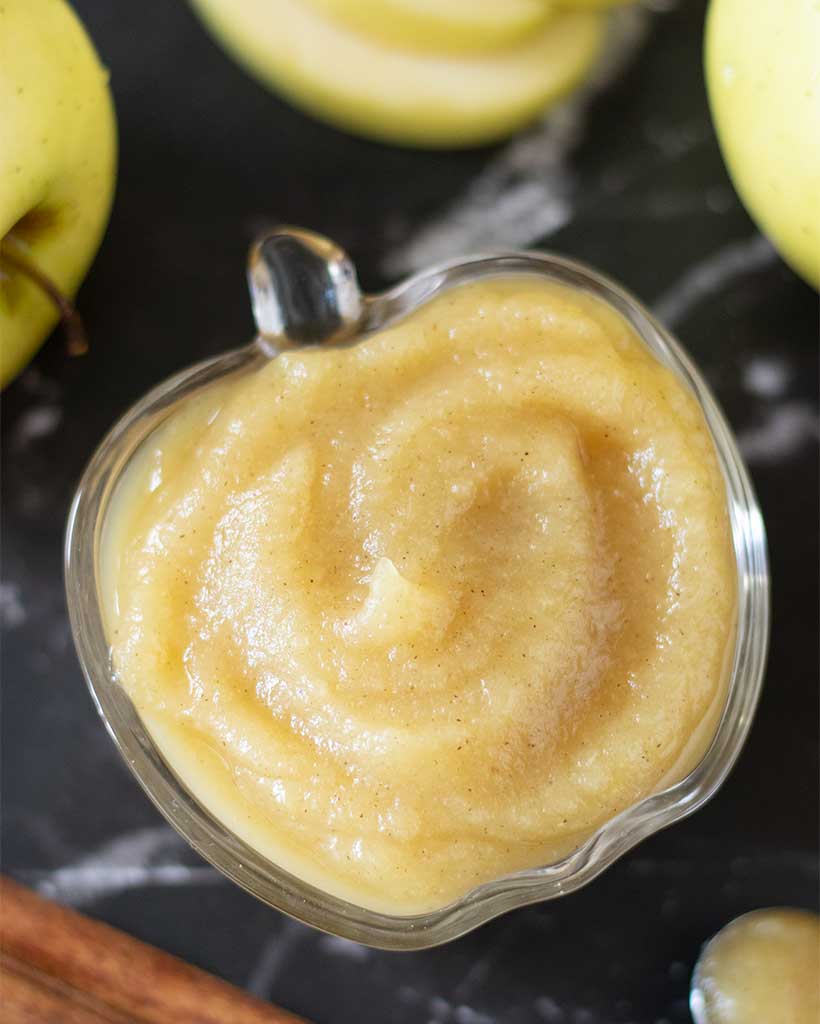 It's amazing how these 3 plant-based ingredients come together to form this healthy and satisfying apple puree dish, ready in a flash.
There is nothing more delicious than a serving of fragrant and super smooth unsweetened applesauce made at home. I assure you that once you try this quick DIY recipe you'll never even look at the one sitting on the store's shelf.
Is Homemade Applesauce Better Than Store-Bought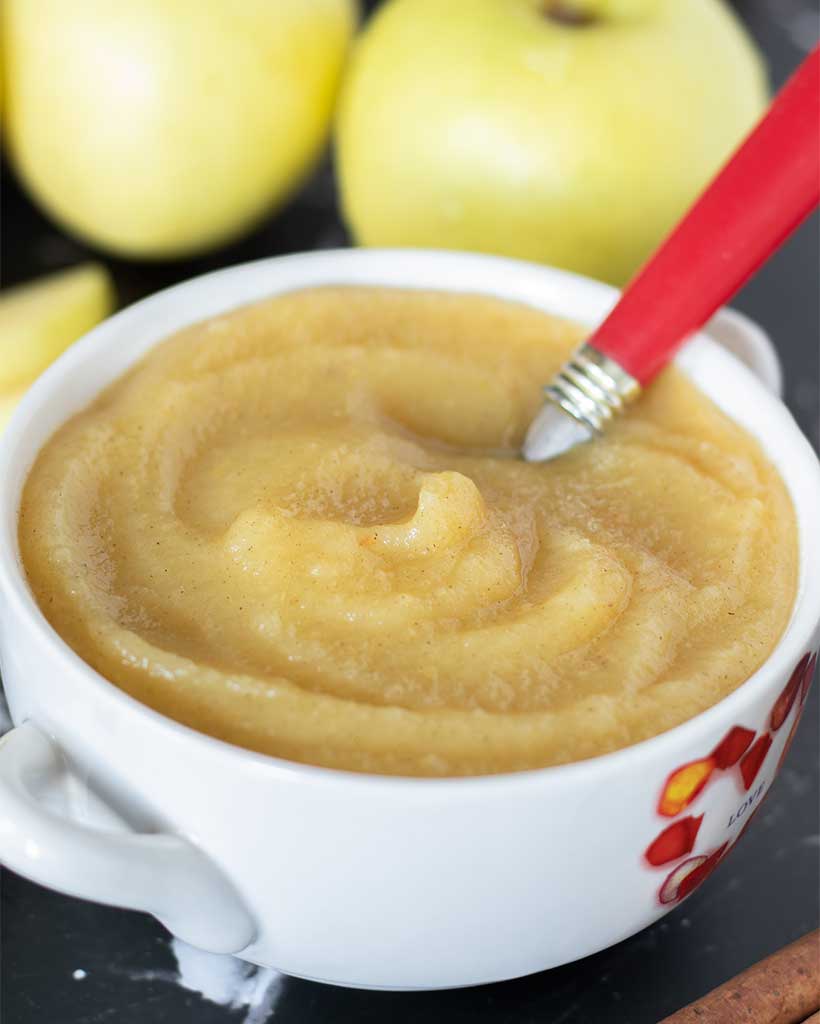 You may ask yourself, is it worth the effort to cook homemade apple sauce from scratch?
Absolutely! This naturally sweetened treat is worth every minute of preparation!
It's incredibly yummy, cheap, and way healthier than its store-bought counterpart.
Moreover, it's highly nutritious, packed with freshness, and good for you ingredients. The sweetness of the Golden Delicious apples is seamlessly paired with the slight aromatic note of cinnamon and freshly squeezed lemon juice. It's also gluten-free, dairy-free, and full of fiber. A fall perfection!
Healthy Vegan Applesauce Taste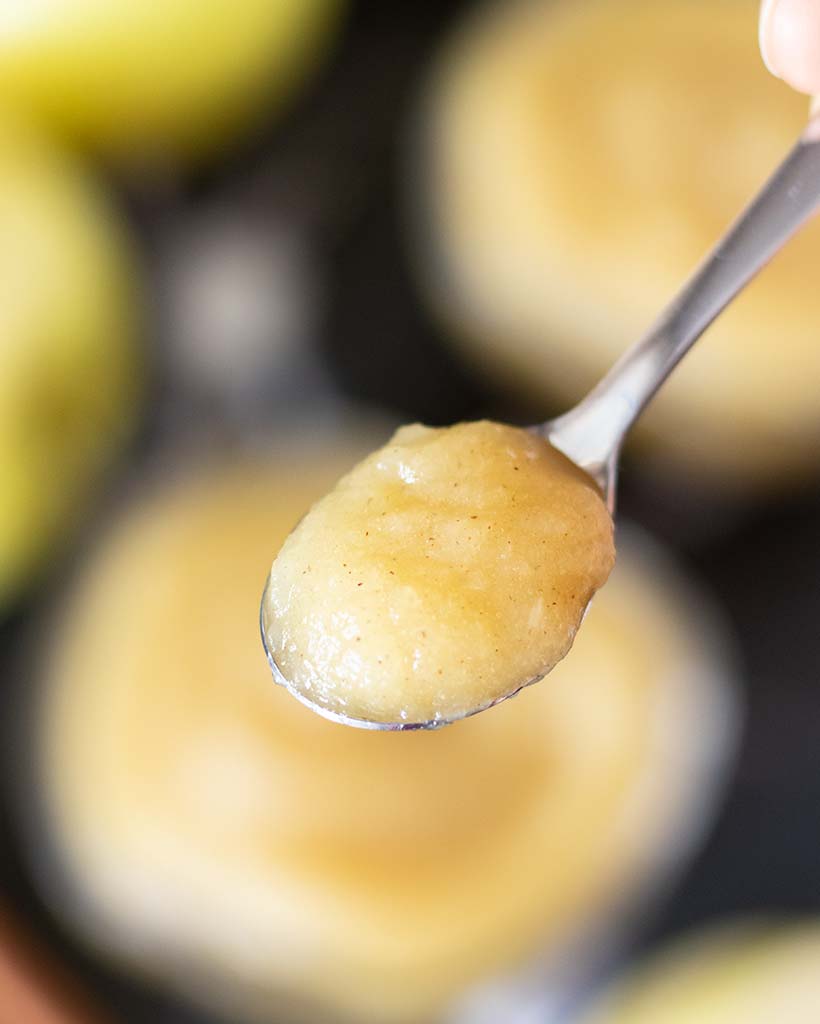 Well, the flavor of this pleasantly sweet cinnamon applesauce revokes childhood memories to me. It reminds me of the favorite fruit puree packed in a small jar I used to buy frequently and greatly adored. But it was full of highly processed sugars and artificial aromas (I didn't give it much thought then 🙂 )
Now, I'm so happy I can make my own wholesome version and enjoy it whenever my sweet tooth is calling without the guilt, of course!
I know your kids will LOVE it, too, so make it in a larger batch and enjoy it as a cozy afternoon dessert on these cold autumn days.
What are we waiting for? Let's make it right away!
Easy Homemade Applesauce Recipe Ingredients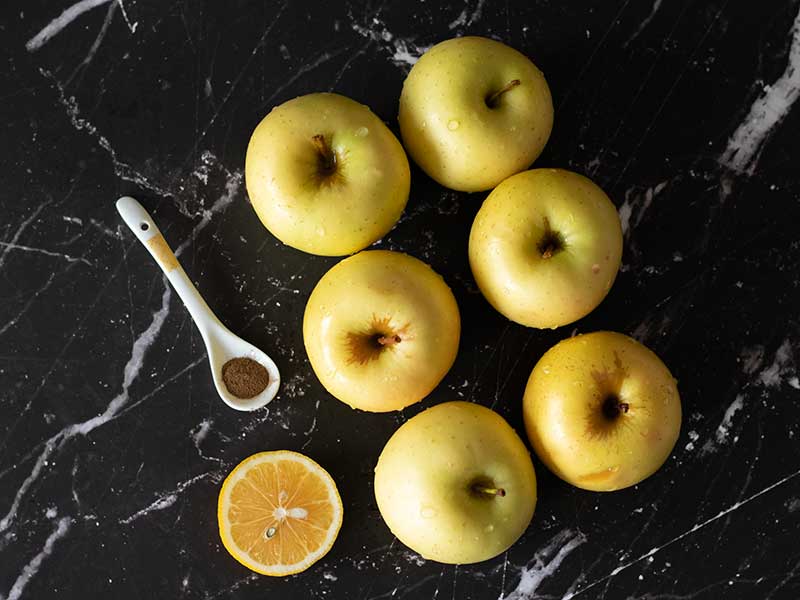 This vegan-friendly fruity sauce made from juicy apples calls for a few inexpensive ingredients. Here they are:
Apples

(I used Golden Delicious)

Ground cinnamon

Freshly squeezed lemon juice

Water
As always, you can find the full recipe with a list of ingredients with measurements in a printable recipe card at the end of this post.
Time needed: 20 minutes.
How to make an easy applesauce recipe for babies and adults?

I'm sharing with you the most basic method to make your own applesauce from scratch. Make it in no time with these 3 easy steps:

Peel, core and chop the apples

First, wash thoroughly the apples. Peel, core, and chop the apples into large chunks (approximately ¾ inch or 2 cm each). I used 6 medium-sized apples (5 cups chopped).



Cook

Next, combine chopped apples, water, and cinnamon into a saucepan and bring to a boil. Reduce the heat to medium, cover with a lid, and let it simmer, stirring occasionally, for 10-12 minutes or until the apples are very soft and start to fall apart. Turn off the heat and let it sit on the stovetop for 2-3 minutes or the liquid evaporates. In the end, stir up the freshly squeezed lemon juice.



Puree


For chunky applesauce, mash with a fork or potato masher until you get the desired consistency. Alternatively, let the mixture cool and blend in a blender or food processor for a smooth and silky texture. I prefer the second method and always blend it until I get a perfect velvety texture as shown in the pictures.
Serve warm or chilled.
This recipe is so versatile. You can add maple syrup, spice it with more cinnamon or stir in more lemon juice to adjust the sweetness to your taste.


FAQ for this Easy Applesauce Recipe
Can applesauce recipe be made without peeling
Sure, peeling the apples is totally optional. You can peel them for an extra smooth texture. Skip this step if you are in a hurry or don't want to miss that additional fiber stored in the apple's skin.
Can homemade applesauce be frozen
Of course, applesauce freezes pretty well. Freeze it in freezer-friendly bags or ice cubes for up to a month.
Why is my homemade applesauce too watery
Your applesauce may have a runny consistency if you add too much water or your apples may produce more liquid than expected. Don't worry, you can easily thicken it by letting it simmer for just a few minutes until the excess fluid evaporates.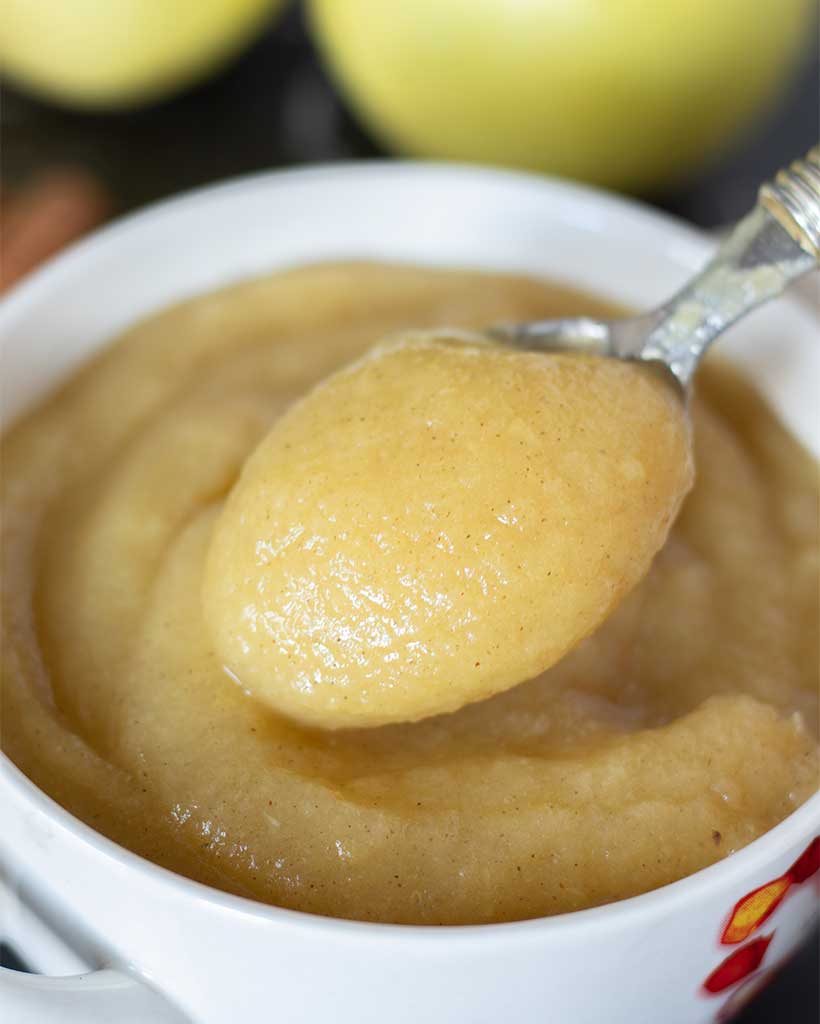 Is applesauce OK for diabetics
Yes, it's a diabetic-friendly food. You can enjoy fresh applesauce made from whole apples without added sugars. Its high fiber and antioxidant content make it a good addition to your healthy diet plan.
Does applesauce needs a lemon juice
You may leave out the lemon juice but I highly recommend adding it to your apple puree. Lemon juice will preserve the color, balance the sweetness and enhance the flavor of the sauce.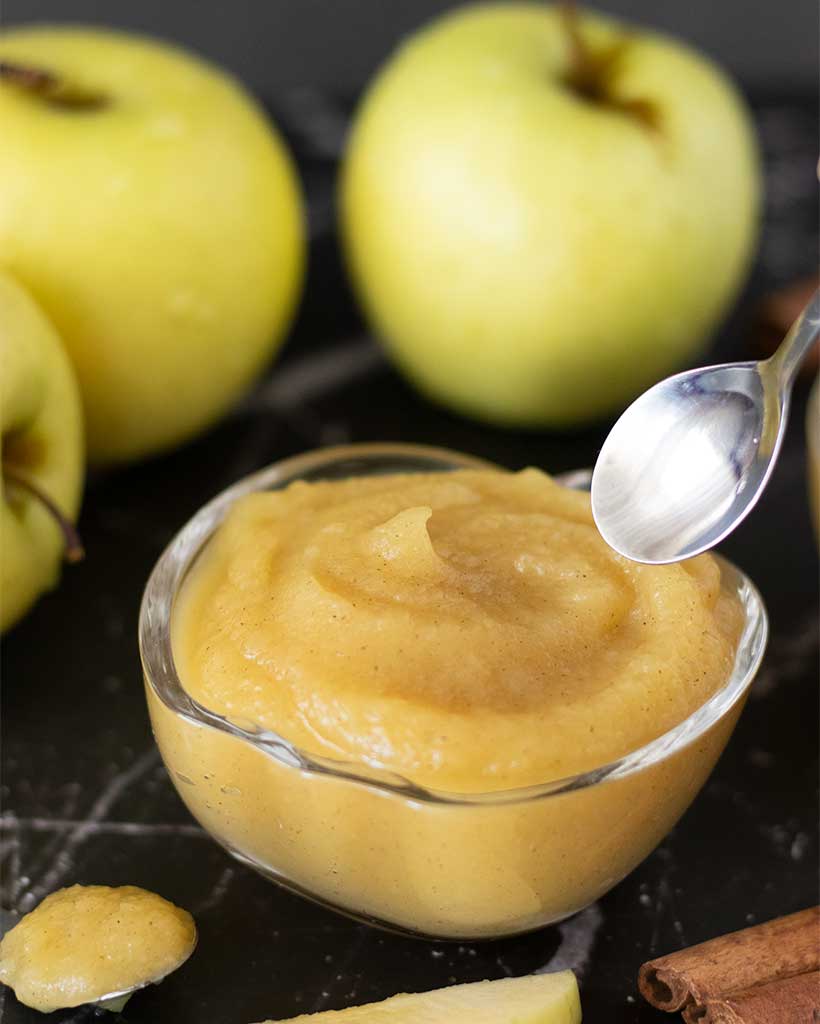 The Best Apples for Applesauce
When I make applesauce I always choose sugary sweet apples with soft and juicy flesh. My favorite is Golden Delicious but you can also use Honeycrisp, Gala, Fuji, Ambrosia, Kiku, or Envy Apple. If you prefer tart applesauce use Granny Smith Apples instead. You may want to add additional sweetener if you use tart or semi-sweet apples.
What is Applesauce Used For
If you ask me, I completely enjoy every spoonful on its own. I love putting it as a topping on my toast spread with peanut butter. At the same time, it can be a great substitute for eggs, oil, or melted butter in all egg-free baked goods: cakes, muffins, pancakes, sweet breads, or cookies. It keeps baked food moist without all that saturated fats. Likewise, you can add it to your oatmeal, smoothies, milkshakes or use it as a topping to your non-dairy ice cream. It can be used as a light and wholesome baby food, too.
📖 Recipe
More Easy Vegan Desserts
Made this easy applesauce recipe? If yes, please rate it, leave a comment below, and share your photo on Instagram with the tag @go_eatgreen and hashtag it #go_eatgreen. I would love to hear about your experience and your comments just make my day!
Follow me on Pinterest for more easy and delicious vegan recipe ideas.
Love, Marinela💚