Easy recipe for kiwi smoothie with fresh spinach and banana. Creamy green vegan drink for beginners. Especially good for weight-loss breakfast or healthy snack. It's amazing how a few simple ingredients can taste!
This deliciously filling smoothie is perfect for a fast morning breakfast. You'll make it in 5 minutes with only 5 wholesome ingredients like kiwi, banana, spinach, almond milk, and ground flax seeds. You are going to love it!
Jump to:
Why I Love this Kiwi Banana Spinach Smoothie
I always start my day with some colorful fruity-veggie blend. Moreover, a mix of fruits and vegetables, which are nutrient powerhouses, is a great way to start your day off.
My favorite part of this recipe is that there is no sugar or dairy added. In fact, its sweetness comes only from bananas and kiwi. Loaded with all-natural, raw ingredients this low-calorie beverage is an ideal afternoon pick-me-up snack or dessert.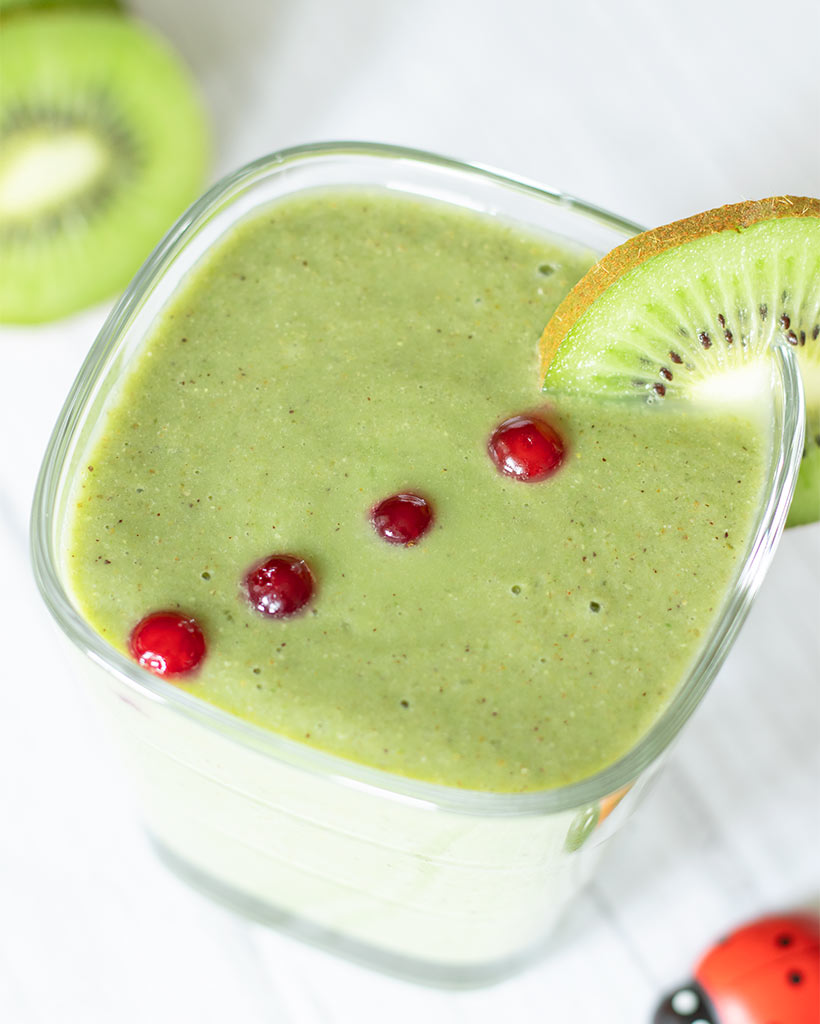 If you're looking for a quick green smoothie with perfect texture this recipe is just for you. Kiwi smoothie with fresh flavors and immunity-boosting ingredients. Enjoy every sip of your delightful, guilt-free deliciousness!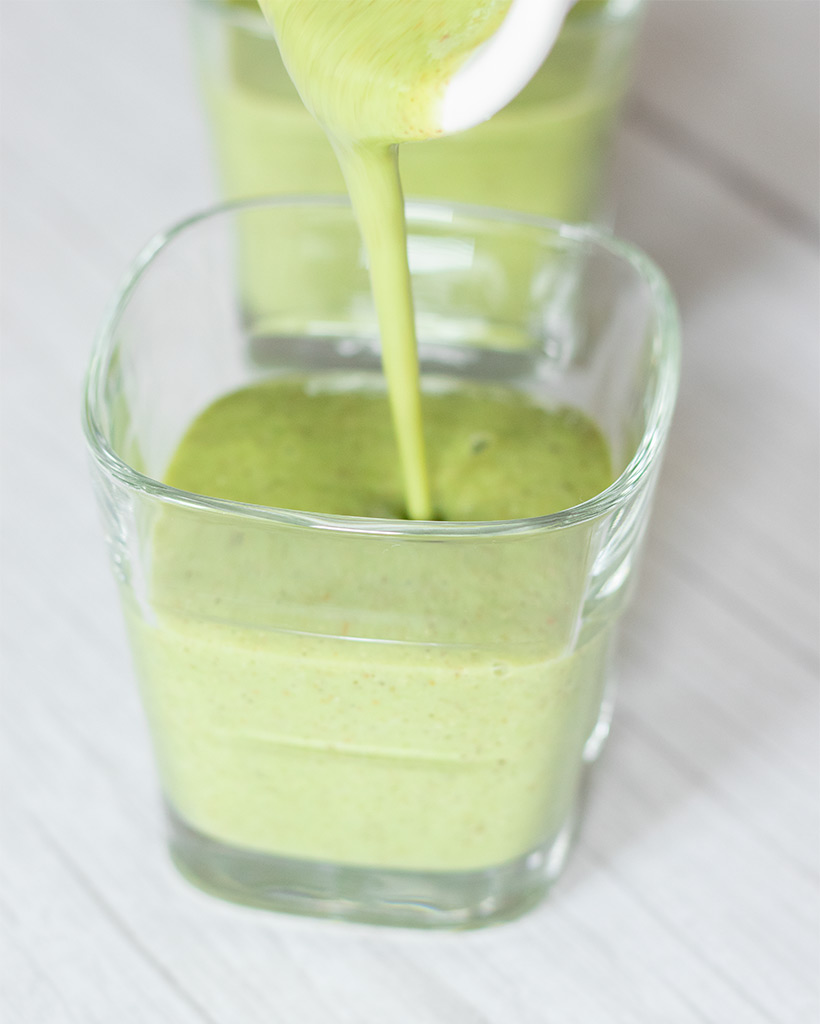 Time needed: 5 minutes.
How to make a good kiwi smoothie for weight loss?
This easy recipe for kiwi smoothie is perfect for beginners and anyone who loves clean eating meals. At the same time, this tasty detox drink is very effective for weight loss, flat-belly and body cleanse. Definitely, worth a try, right?

Blend all ingredients

Place kiwi, banana, spinach, ground flaxseed, and almond milk in a blender or food processor. You can use any dairy-free milk like homemade cashew milk or oat milk. Blend until smooth and creamy.



Serve and enjoy immediately

Serve your kiwi smoothie by dividing it into 2 big glasses or smoothie jars. Smoothies are best when enjoyed fresh and creamy. This recipe yields 2 servings but it's easy to double or triple it for larger batches.


Kiwi Smoothie Benefits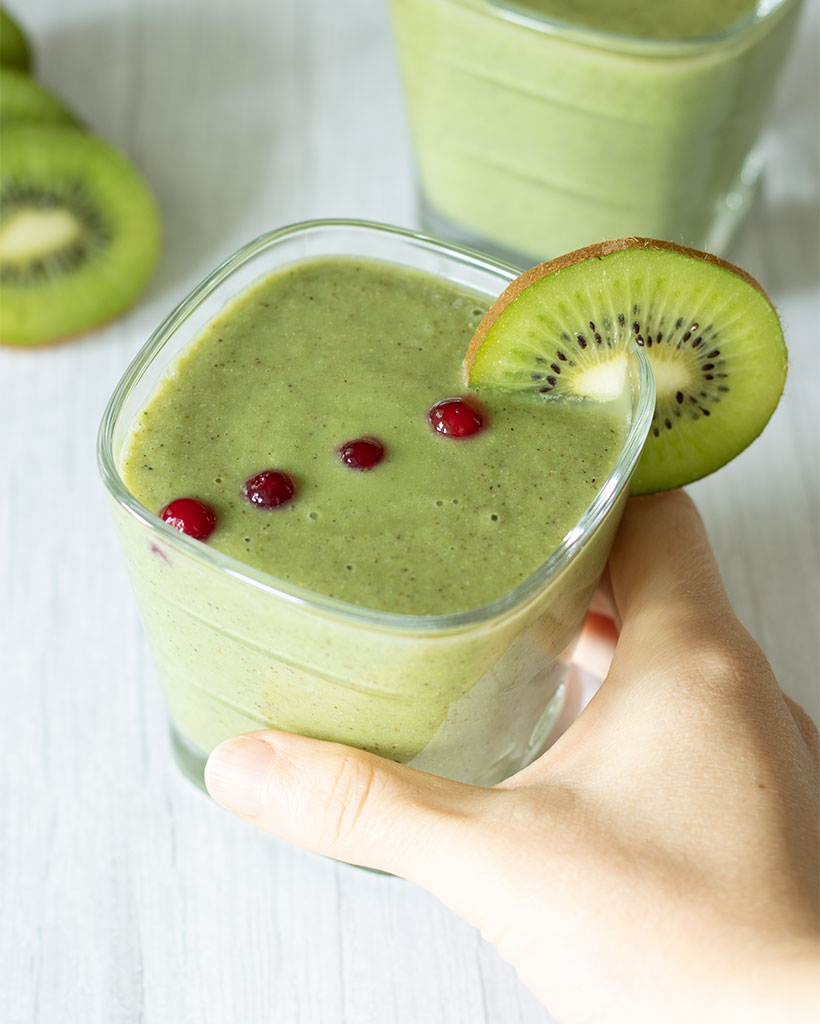 Is kiwi smoothie good?
This amazing kiwi smoothie is actually good for you! Apart from its delicate flavor, it's extremely nutritious and satisfying. Also, it's rich in antioxidants, fiber, vitamins, and minerals. Plus it's a great natural remedy for constipation and bloating. Definitely, the best homemade drink to cleanse and nourish your body.
Is kiwi good for losing weight?
To point out, kiwis are a low-calorie fruit that is high in antioxidants and fiber. This makes them a perfect addition to a weight-loss diet. In fact, this low-sugar green fruit aids with digestion and is especially important for your gut health.
Also, this nutrient-dense fruit is an excellent source of vitamin C, vitamin A, potassium, folic acid, beta carotene, lutein, and other vitamins and minerals.


Important kiwi smoothie benefits?
Not only does vitamin C found in kiwi improves your immune system but also improves breathing and reduces the symptoms of asthma. In addition, this kiwi smoothie is a great source of fiber which helps improve digestion and reduce constipation.
At the same time, this kiwi spinach banana smoothie is an excellent choice for lowering your blood pressure (hypertension) naturally. Likewise, this fantastic green blend contains various anti-cancer properties. This morning detox drink will surely keep you in good shape. You should try it today!
Healthy Ingredients for Kiwi Smoothie
As always, you can find the full recipe with a list of ingredients with measurements in a printable recipe card at the end of this post.
Why make this simple detox drink?
It comes together in just 5 minutes

Naturally sweetened and dairy-free

Best smoothie to lose belly fat

Simple green smoothie for beginners

5 ingredients weight-loss smoothie recipe
Craving more weight-loss smoothie recipes? Try these:
📖 Recipe
Don't forget to pin or share this post so you'll have this kiwi smoothie recipe ready when you need it!
Did you try this recipe for kiwi smoothie? If yes, please rate it, leave a comment below, and share your photo on Instagram with the tag @go_eatgreen and hashtag it #go_eatgreen. I would love to hear about your experience and your comments just make my day!
Follow me on Pinterest for more easy and delicious vegan recipe ideas.
Love, Marinela💚