Simple vegan recipe for a raspberry smoothie without yogurt. Healthy and refreshing, plant-based on-the-go breakfast ready in 5 minutes.
It's smoothie time again! I love sharing my favorite vegan smoothie recipes with you so you'll never run out of ideas again. These amazingly tasty drinks are such a great way to add extra fruits and vegetables to your diet. Put it on your clean eating food list right away!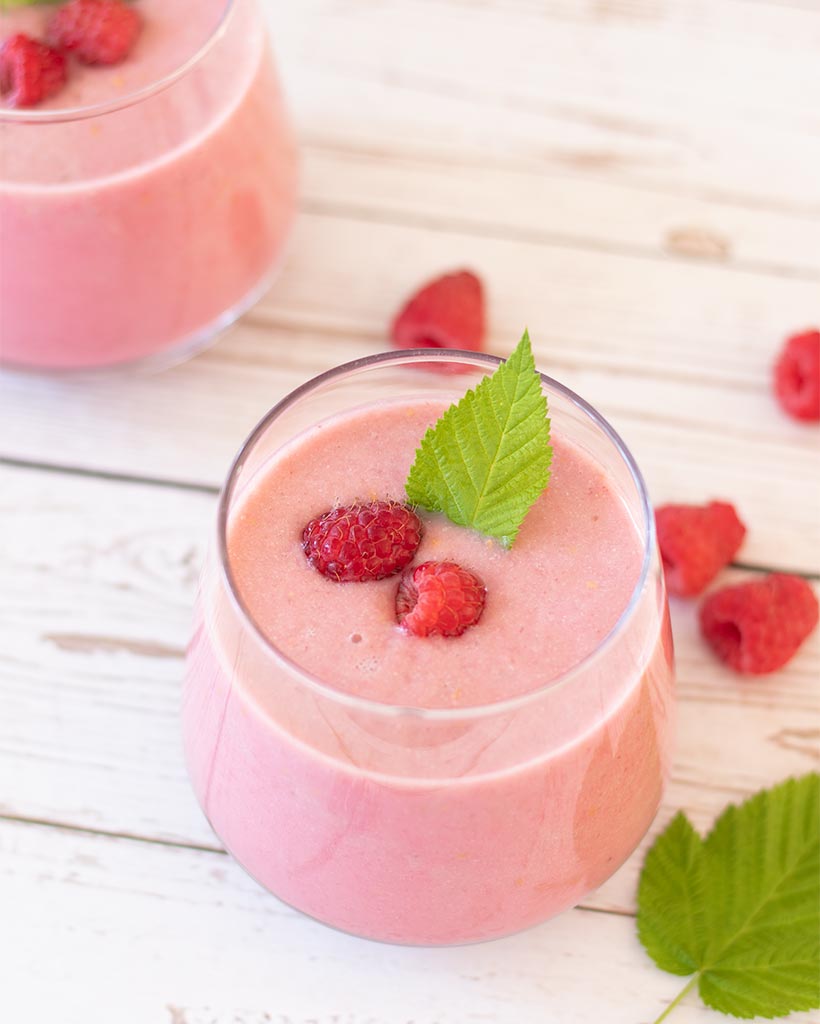 Besides today's awesome pink-colored raspberry smoothie I highly recommend you to try my 3 ingredients strawberry smoothie or this healing cranberry smoothie if you are looking for morning inspiration to start your busy day. It's the best way to instantly energize and nourish your body. With that inviting vibrant color, they are perfect for kids and toddlers, too.
Recipe for a Vibrant Banana Raspberry Smoothie
This ultra-creamy banana raspberry smoothie with almond milk is the best summertime light meal. It's made with a handful of wholesome ingredients and so quick and easy to make.
You know that I'm a huge lover of seasonal eating, so today, I made the easiest recipe for a raspberry smoothie with bright fresh raspberries. Well, I can rarely find fresh berries here at the local farmer's market. Yesterday, my mom surprised me with these enticing red gems. What bliss!
What are the benefits of eating raspberries?
There are many reasons why raspberries are so good for you. These fresh edible fruits are low in sugar and low in calories. At the same time, they are full of anti-aging antioxidants and rich in plant fiber, vitamins, and minerals your body needs daily to function properly. Also, they are good for your gut health due to their high water and fiber content. They can help you maintain good digestion and prevent constipation as well. Moreover, these sweet-tart berries contain beneficial compounds which give them incredible anti-inflammatory and anti-cancer properties, too.
Ingredients you'll need:
You probably have at hand the ingredients you'll need to make this fantastic superfood raspberry smoothie recipe for 2.
Fresh raspberries

(you can use frozen too)

Banana

(for that extra creamy texture and naturally sweet flavor)

Any plant-based milk

, I used homemade almond milk (choose your favorite, maybe try to make your own cashew milk or oat milk, it's so easy!)

Agave syrup

(or maple syrup, for extra sweetness, optional)

Lemon juice

(freshly squeezed)
Time needed: 5 minutes.
How to make a raspberry smoothie?

Truly, this smooth, velvety combo with pink color is made of whole, real ingredients with no added refined sugar and no dairy. You can drink it every single day. I absolutely love it and I'm sure you'll love it too!

Blend all ingredients

Place all ingredients in a blender or food processor. Use 1 cup fresh raspberries (you can use frozen too), 1 banana, 1 cup of almond milk (use any dairy-free milk of choice, maybe try this super quick homemade cashew milk or oat milk), 1 tablespoon freshly squeezed lemon juice, and 1 tablespoon agave syrup. Blend until super smooth and creamy.

Serve immediately

Serve your low-calorie raspberry smoothie with almond milk immediately, dividing it into 2 glasses. Enjoy it straight from the blender, while fresh and creamy. This recipe yields 2 large glasses but it's easy to halve, double or triple it for larger batches.

Raspberry Smoothie (Vegan)
What do raspberries go well with?
Raspberries pair well with other berries like: strawberries, blueberries, cranberries and blackberries. Likewise, they make a wonderful blend with bananas, apricots, lemons, sour cherries, nectarines, plums, spinach, grapefruit, grapes, pears, mango, pineapple and watermelon.
How many calories are in a raspberry smoothie?
One glass of this raspberry almond milk smoothie contains only 148 calories. This makes it an excellent on-the-go beverage for breakfast, brunch, post-workout snack, or even a healthy dessert.
Are berry smoothies healthy?
Certainly, yes! Not only are they easy to prepare and digest but also packed with essential nutrients like vitamins, minerals, and powerful antioxidants. Scroll to the bottom for more fresh smoothie recipe ideas.
Why You'll Love this Recipe for Raspberry Smoothie:
Gluten-free

Dairy-free

Vegetarian & Vegan

Kid-friendly drink

Weight-loss friendly

So delicious!
📖 Recipe
More Yummy Smoothie Ideas
Don't forget to pin or share this post so you'll have this raspberry banana smoothie recipe ready when you need it!
Made this recipe for a raspberry smoothie? If yes, please rate it, leave a comment below, and share your photo on Instagram with the tag @go_eatgreen and hashtag it #go_eatgreen. I would love to hear about your experience and your comments just make my day!
Follow me on Pinterest for more easy and delicious vegan recipe ideas.
Love, Marinela💚