Jump to Recipe
Best Vegan Queso Recipe you'll taste ever! Whip up this plant-based dip with an incredibly yummy cheesy flavor and a rich & creamy texture as a savory appetizer or quick snack.
This spicy homemade dip is naturally dairy-free, lactose-free, chipotle-free, and gluten-free. Bonus: it's surprisingly easy to make in just 10 minutes!
If you are lactose intolerant, allergic to dairy, or simply trying to follow a healthy clean-eating diet this Mexican dip is a wonderful option for you. It pairs fantastically with baked potatoes, chips, crackers, and veggies, but it's also great to serve as a cheesy sauce or topping for tortillas, burritos, pasta, or lasagna.
A seriously good alternative to traditional queso, better than any store-bought version. You definitely need this luscious cashew dip in your life ASAP!
Jump to:
What Is Vegan Queso
Non-dairy queso is a Mexican-inspired dip you can make instead of traditional queso to serve as a delicious dipper, topping, or side for a party, potluck, or family gathering. Raw cashews, fresh chili pepper, nutritional yeast, sundried tomatoes, and spices are blended to creamy perfection with a pleasantly piquant taste.
Check out my vegan cheese sauce (without cashews) or this plant-based parmesan cheese for more DIY cheese inspiration.
Ingredients
All you need to make this velvety queso dip is 1 blender (I used my Nutribullet) and a few whole foods:
Raw cashews
Fresh red chili pepper
Sundried tomatoes
Nutritional yeast
Oat milk (or any unsweetened dairy-free milk, I don't recommend coconut milk)
Salt and spices: chili powder, hot red pepper flakes, garlic powder, ground cumin
As always, you can find the full recipe with a list of ingredients with measurements in a printable recipe card at the end of this post.
How To Make Vegan Queso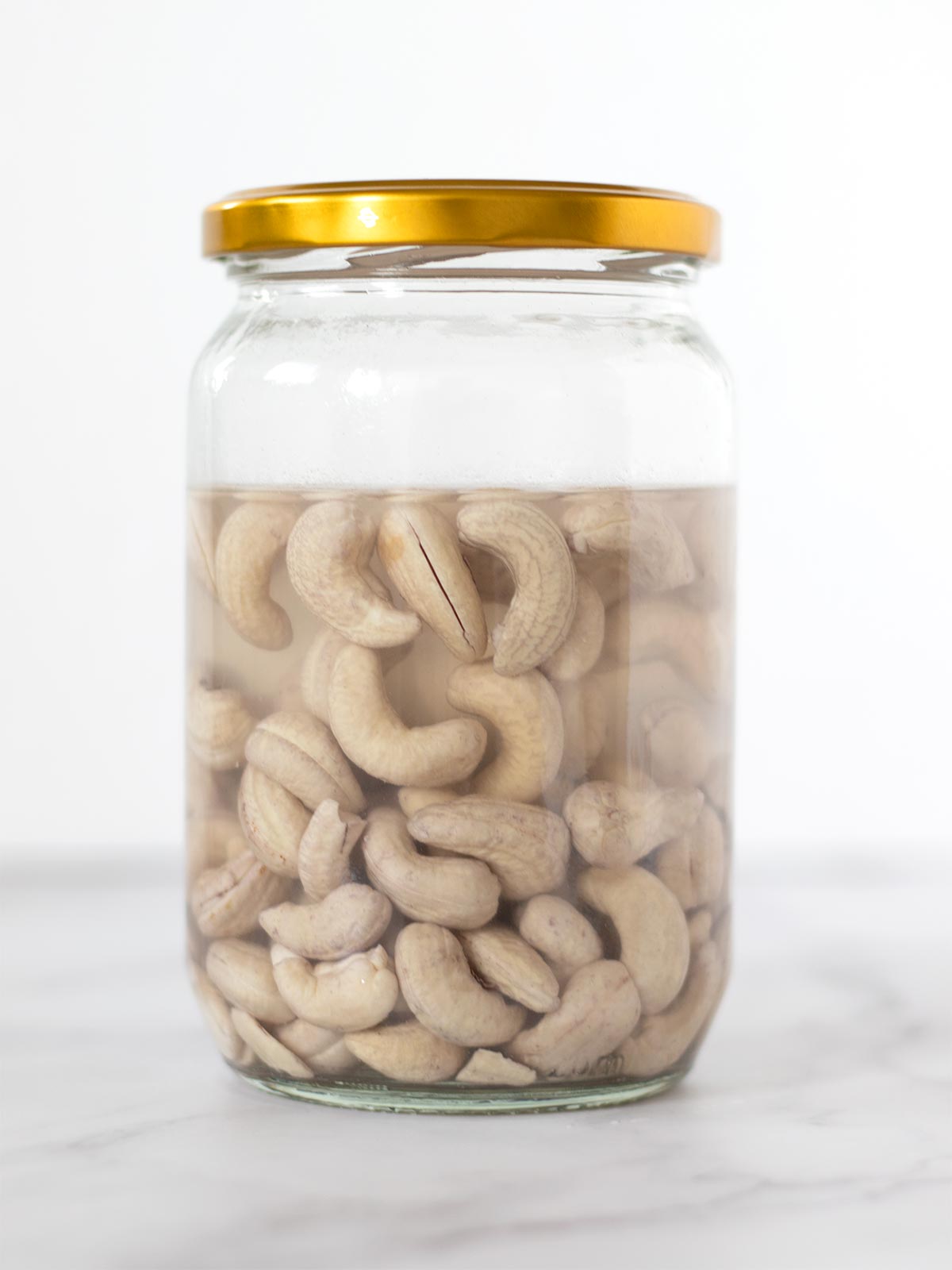 Soak the cashews. Soak the cashews in 1 cup of hot, boiling water for about 5 minutes or longer to help them soften up. The longer you let them soak, the softer they will become, and the creamier the consistency of your queso will turn out.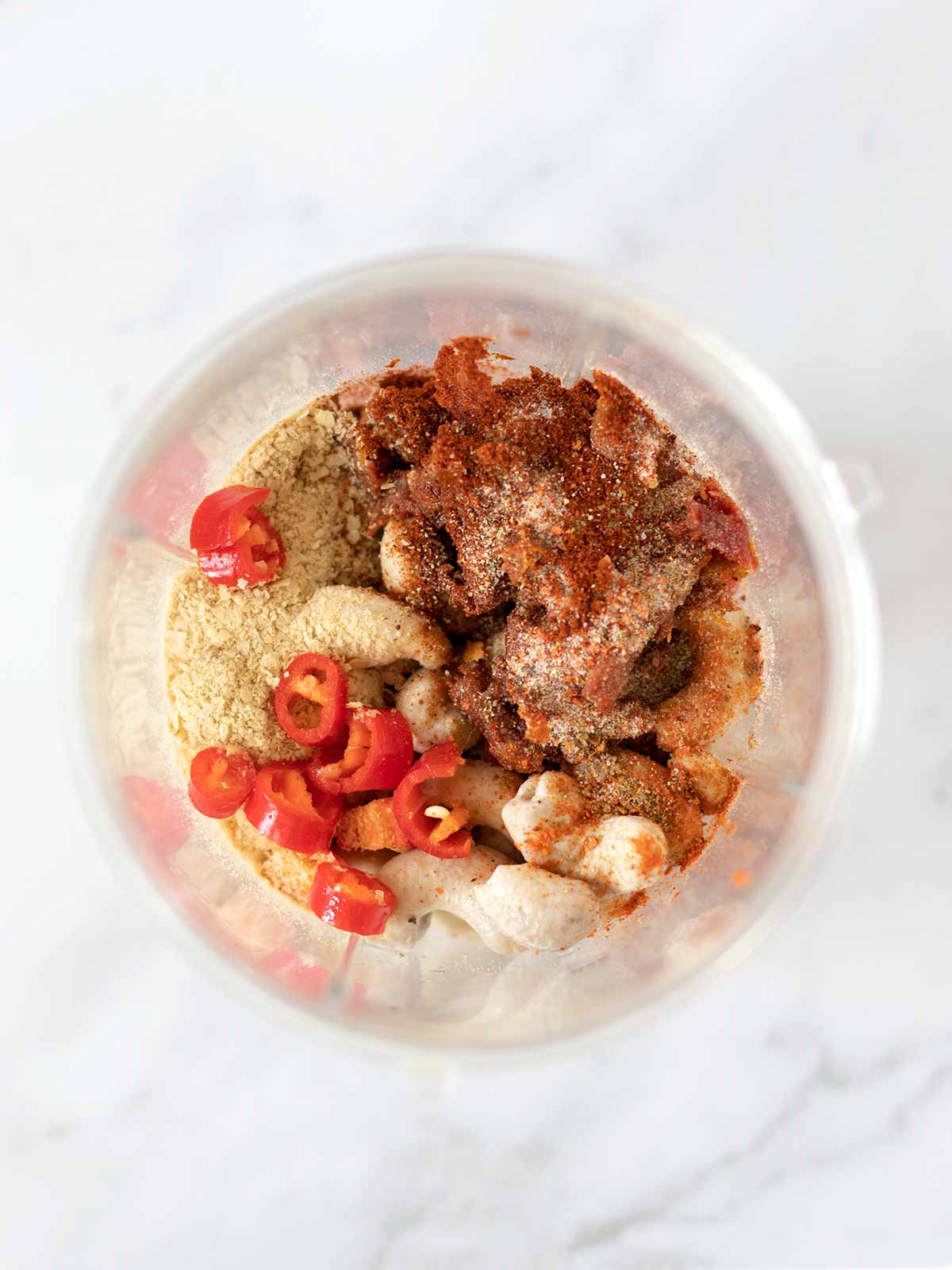 Blend. Place soaked & drained cashews, finely chopped red chili pepper, sliced sundried tomatoes, nutritional yeast, oat milk, salt, and spices in a high-powered blender. Process until you get a smooth consistency. Taste and adjust salt or spices if needed.
Warm up and serve. You can enjoy this healthy dip at room temperature or you can transfer it to a small saucepan and heat it up on the stovetop over medium-low heat. Store any leftovers in an airtight container for up to 3-4 days in the refrigerator.
Substitutions
Sundried tomatoes - instead of sundried tomatoes, you can use oven-roasted tomatoes, canned tomatoes, or tomato paste.
Fresh chili pepper - simply use more chili powder, chili flakes, chili sauce, sriracha sauce, or harissa paste. Alternatively, you can use fresh jalapeno pepper or serrano pepper. Test with a small amount of the ingredients you choose to make it suit your threshold of spiciness.
Cashews - I haven't tried it myself, but I think macadamia nuts, blanched almonds, or sunflower seeds will work out well in this recipe.
Storage
This vegan dip is great to make ahead! You can store it in an airtight container in the fridge for up to 3-4 days. It may thicken when chilled so you can heat it on the stovetop with a splash of water or plant milk over medium-low heat. Be careful to not overheat it and make it chunky.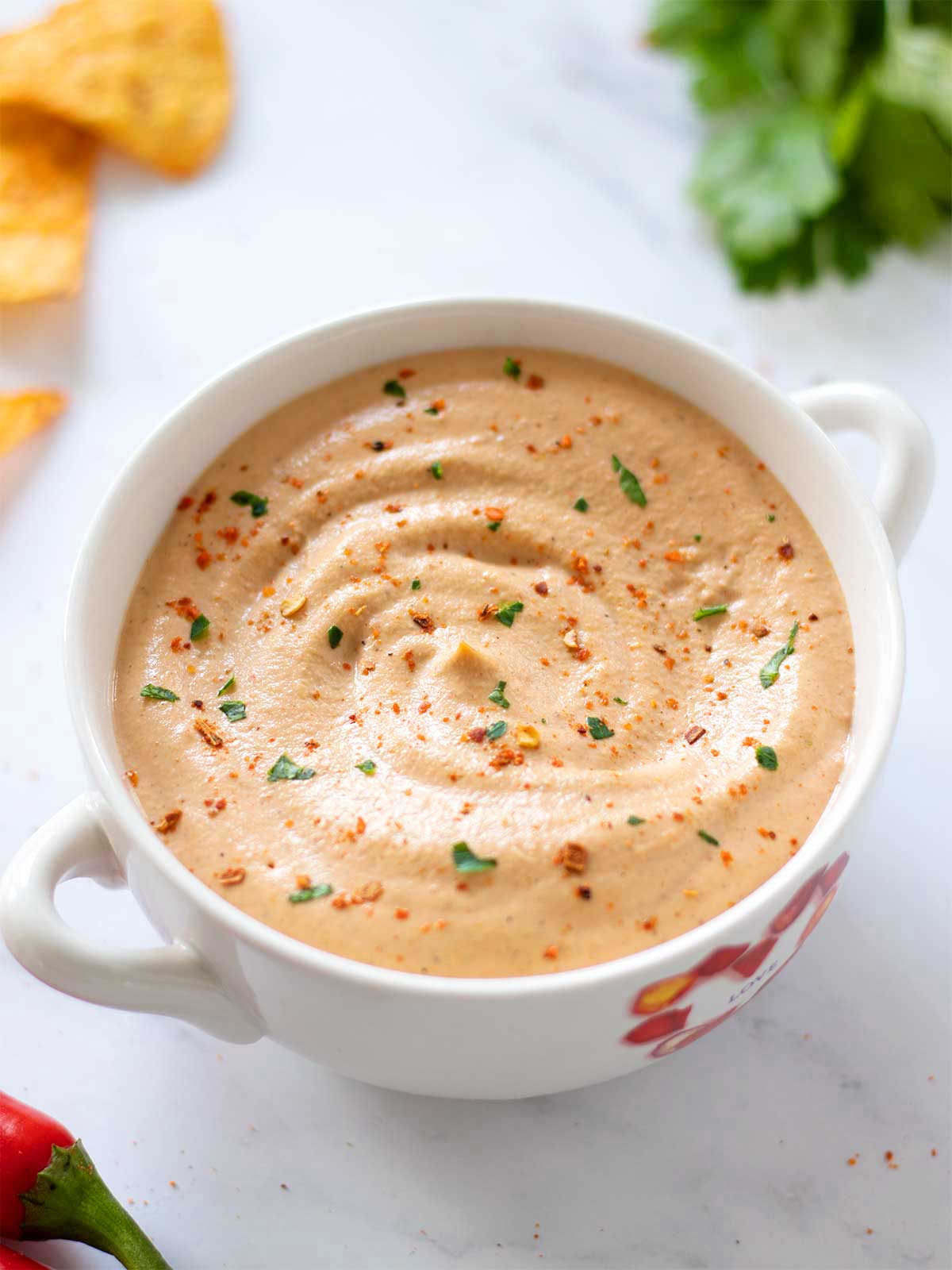 Top tips
Don't skip cashews soaking. Even if you have a high-powdered blender don't skip the soaking step. By soaking the cashews, not only will you get that gorgeously creamy texture but this will also boost their nutrition and improves digestion. If you don't have a high-powered blender you can still reach a smooth texture by soaking cashews longer (overnight will be the best option).
Use raw cashews always. Don't use roasted and salted since this will significantly change the flavor of the dip.
Adjust the thickness. I get the perfect texture and flavor with the listed ingredient measurements. Nonetheless, if you think your homemade sour cream is too thick feel free to add a bit more water, or non-dairy milk.
Adjust the spiciness. If you prefer it mildly spiced or want to make kid-friendly queso simply replace the chili with red bell pepper, omit hot pepper flakes and reduce the amount of chili powder.
Add toppings. For more flavor, texture, and decoration top it with chopped parsley, and finely diced chili pepper, or sprinkle with red pepper flakes.
FAQ
Is vegan queso healthy
Yes, absolutely! Our homemade queso dip is made with 100% whole foods without processed cheese that is full of saturated animal fats, sodium, and growth hormones. On the other hand, this cashew dip is packed with heart-healthy fats, plant-based protein, powerful antioxidants, and good-for-you ingredients.
Related
Looking for other vegan dips? Try these:
Pairing
These are my favorite dishes to serve with this queso dip:
📖 Recipe
Did you try this spicy cheesy dip? Did you make some changes? I would greatly appreciate it if you have a minute to rate the recipe and leave a comment below.
You can also share your photo on Instagram with the tag @go_eatgreen and hashtag it #go_eatgreen. We would love to see your creations! Thank you for sharing your experience with us, we are so grateful you are here 🙏
Follow Go Eat Green on Pinterest for more easy and delicious vegan recipe ideas.