Jump to Recipe
This easy black bean hummus is definitely the best vegan appetizer, side dish, or snack. Plus, this simple homemade Mediterranean dip is naturally gluten-free, dairy-free, incredibly healthy, and packed with irresistibly creamy flavor. You'll look forward to serving this delicious savory hummus recipe at your next party, game day, or potluck with tortilla chips, veggies, nachos, or crackers.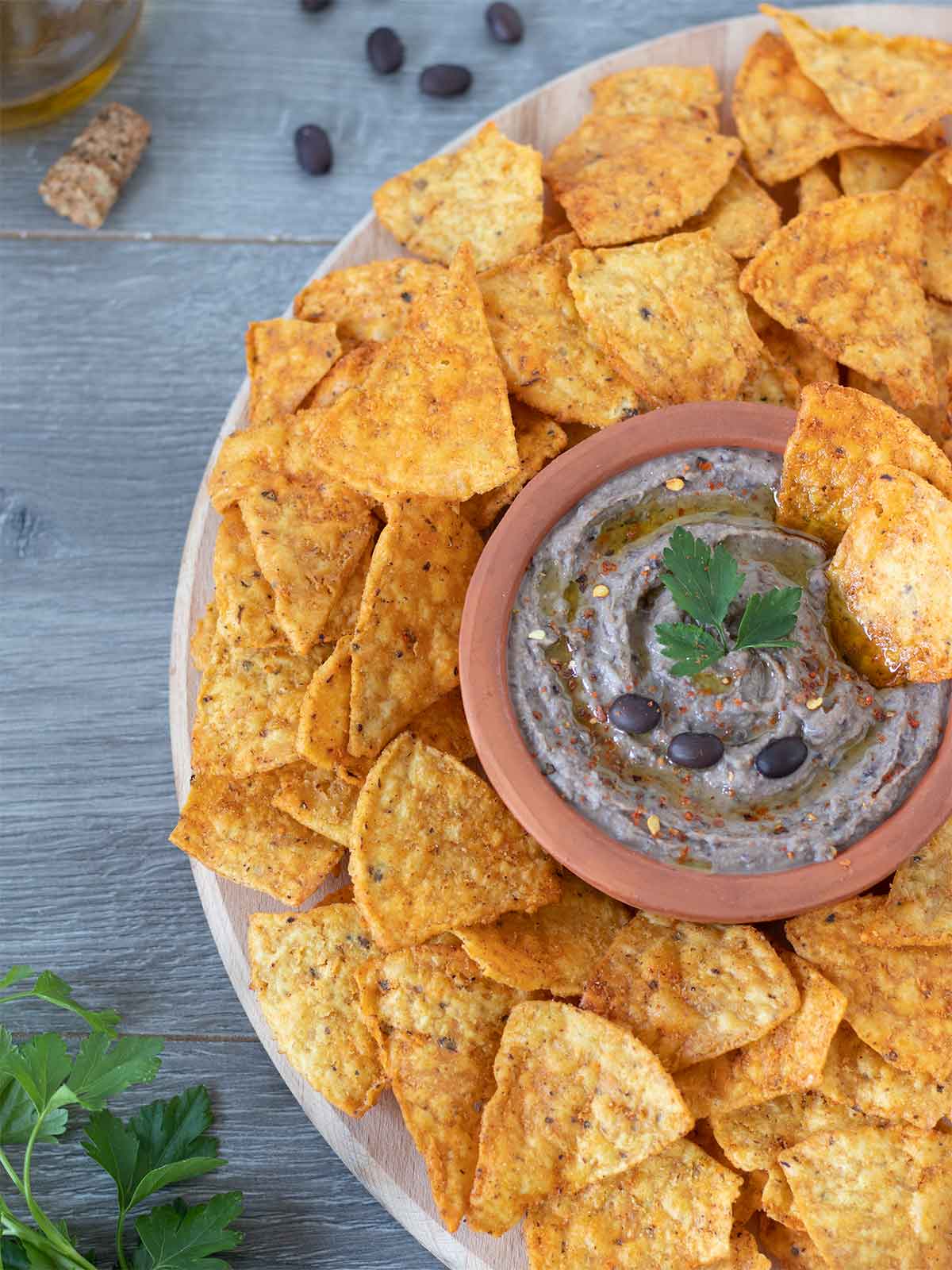 Even though I can't get enough of roasted red pepper hummus, the moment I tasted this velvety plant-based spread, I instantly fell in love with it. Then I knew that I need to share this quick recipe for spicy black bean hummus with you, too. I'm sure you'll love this creamy-dreamy textured dip with a unique tangy kick infused with the bold flavor of homemade tahini. Trust me, it's an amazing spin on the classic dip, and takes literally 10 minutes (or less) to whip it up from scratch!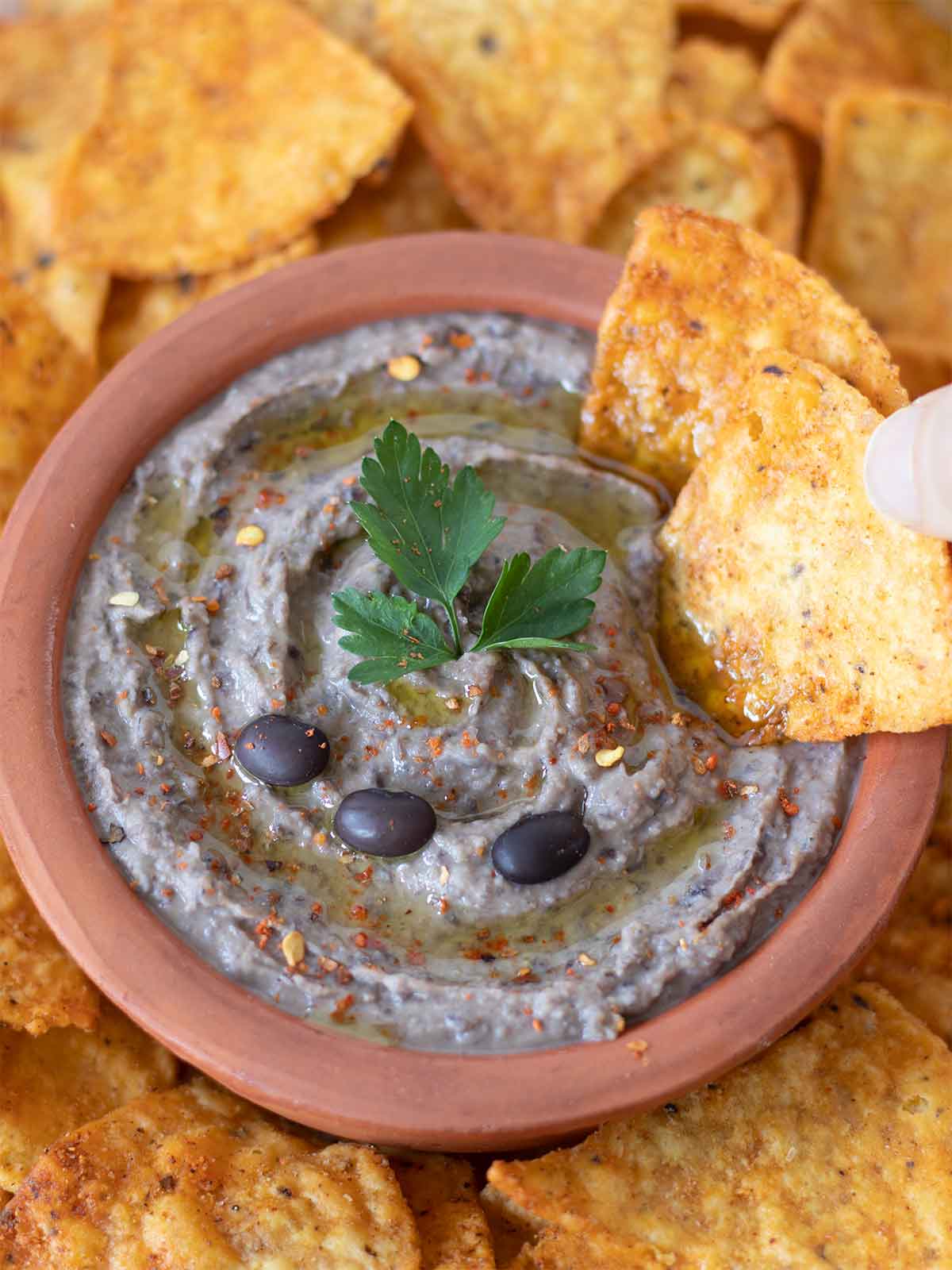 Besides that, it's loaded with flavor and is jam-packed with plant protein, fiber, and an abundance of nutrients that are all good for you. You'll never buy store-bought hummus again. This yummy dipping bowl is nutrient-dense, cheap, and unbelievably tasty! It's fantastic to spread on warm tortillas, and crispy potato latkes, or to slather it on Passover unleavened bread. Nom nom nom.
Ready to start dipping?
Jump to:
Black Bean Hummus Ingredients
You'll need a few pantry staples to make this satisfying black bean dip. And yes, no chickpeas are needed for this recipe 🙂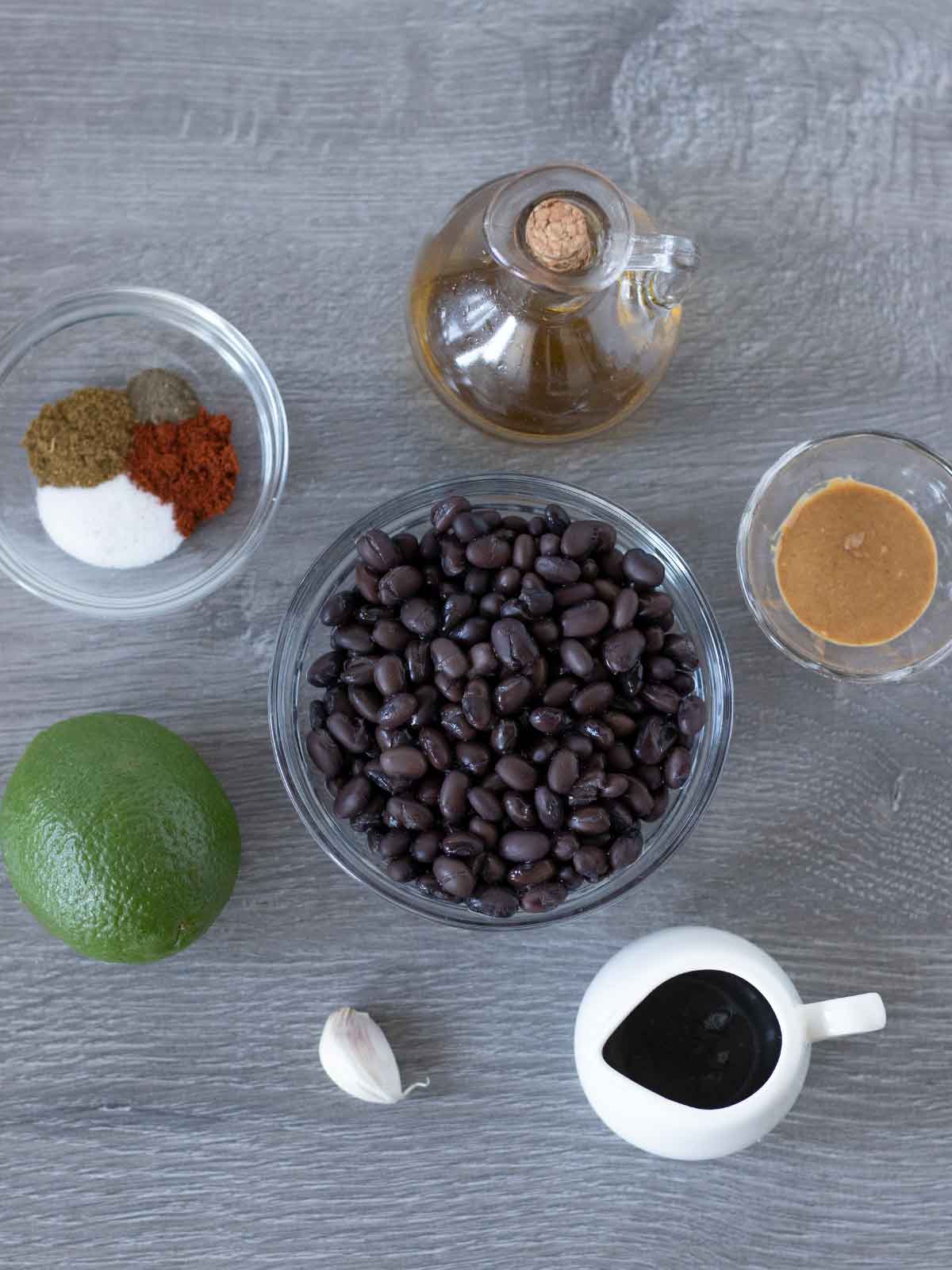 Canned Black Beans - for the best creamy protein base (don't forget to reserve the liquid from the can of black beans or cooking water if you cook them at home)
Tahini (roasted sesame paste) - learn how to make homemade tahini paste (super easy)
Extra Virgin Olive Oil
Lime Juice - freshly squeezed
Garlic Clove
Salt & Spices - fine sea salt, ground cumin, chili powder, ground black pepper
As always, you can find the full recipe with a list of ingredients with measurements in a printable recipe card at the end of this post.
How To Make Black Bean Hummus
Drain and rinse canned black beans. Don't forget to reserve 2 tablespoons of the liquid from the can. Squeeze the lime. Peel and mince (or finely chop) the garlic. Alternatively, you can simply process whole garlic clove in the blender or a food processor before adding in the other ingredients.
Add in drained and rinsed black beans, olive oil, tahini paste, water from the canned beans, lime juice, salt, and spices, and blend until a smooth and creamy textured mixture forms. I like to scrape the sides of the blender cup and blend again for a completely smooth texture.
Hint: if your hummus is too dense or gritty, you can slowly add 1-2 tablespoons of black bean liquid, and blitz again, until you reach the perfect consistency.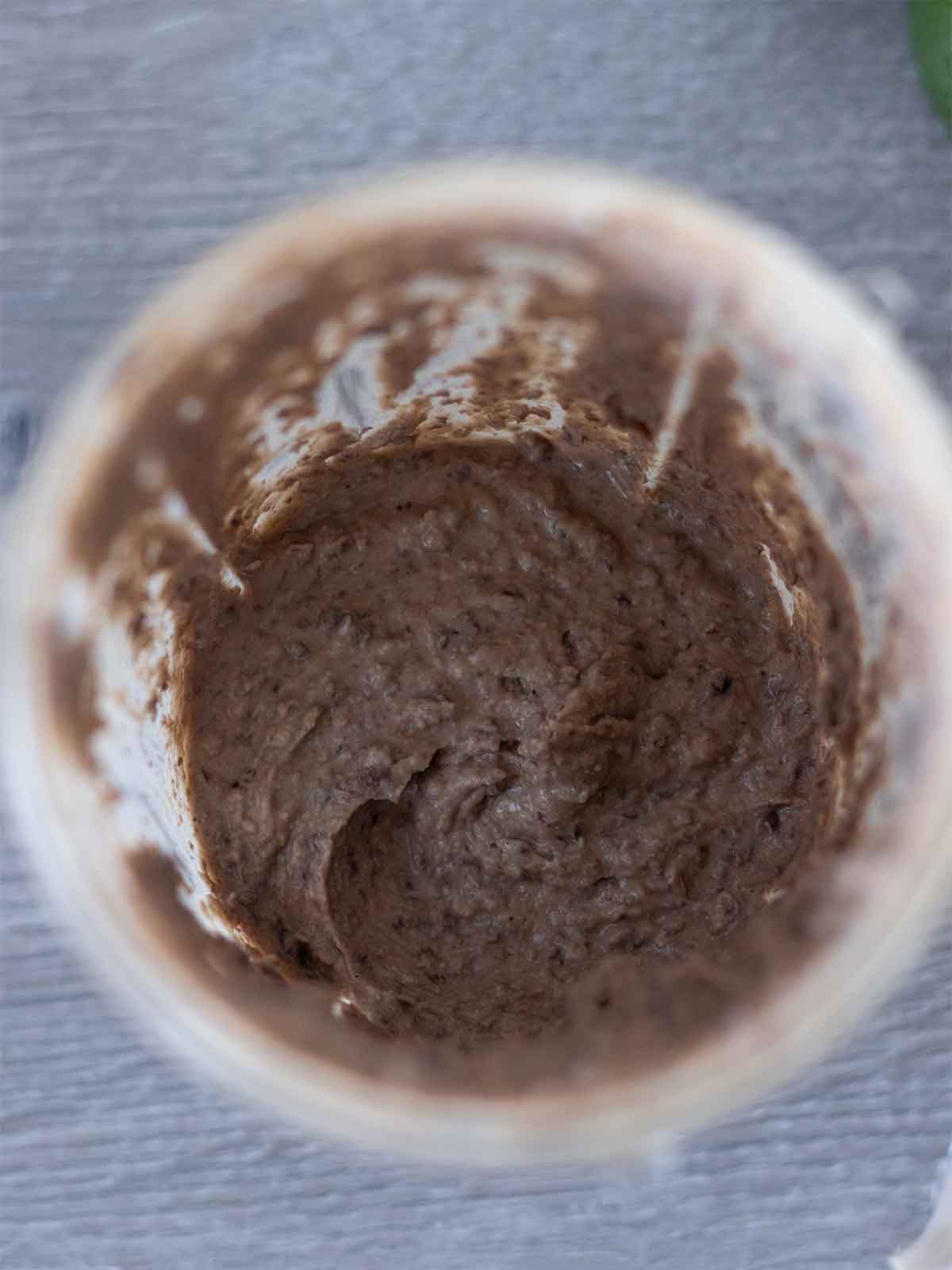 Transfer your hummus to a bowl and serve drizzled with olive oil, sprinkle with red pepper flakes, and chopped parsley leaves. Feel free to double or triple the recipe ingredients if you plan to feed a big crowd.
If you want to make it ahead or have any leftovers store them in an airtight container refrigerated for up to 4 days. Freeze it in a freezer-friendly container for up to 2 months.
Substitutions
Canned black beans - instead of canned beans you can use home-cooked dried black beans, as well
Lime juice - substitute it with freshly squeezed lemon juice, both share similar nutritional content and flavor
Tahini - if you want to make your hummus without tahini you can add + 1-2 tablespoon olive oil or unsweetened cashew butter, almond butter, or sesame butter. Take note that the taste may slightly vary depending on the nut butter you'll use.
Variations
This vegan hummus is extremely versatile, you can endlessly customize it to fit your taste.
Herby - for a touch of freshness add fresh parsley, cilantro, chopped green onions, chives, or dill
Spicy - if you want to add some heat to your hummus dip simply blend in one chopped jalapeno or chili pepper
Storage
If you need it for a party or other family gathering, this healthy black bean dip is great to make ahead. You can store it in an airtight container in the fridge for up to 4 days. Otherwise, you can freeze it in a freezer-friendly container for up to 2 months.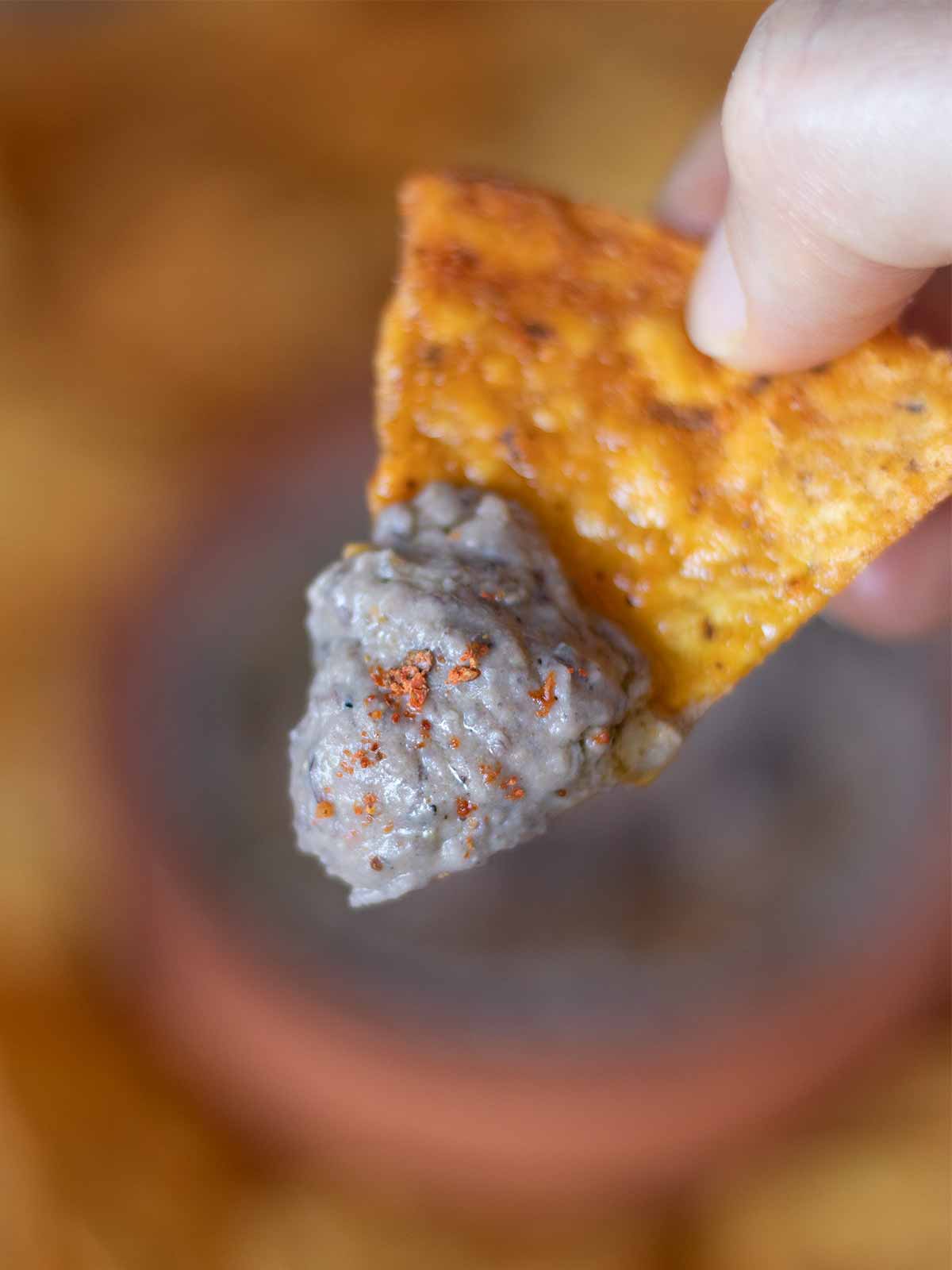 Top tips
For the best texture and flavor, reserve some of the canned black bean liquid (or cooking water if you cook dried black beans at home) and use it in the recipe.
Perfectly soft bleak beans. If the canned black beans you have are undercooked, just place them in a pot, covered them with water, and let them simmer until they are soft and mushy. On the other hand, if you are using home-cooked beans make sure you cook them well until they are tender, almost mushy.
Don't skimp on the tahini. To achieve that rich indulging flavor use organic tahini or make your expensive DIY tahini at home.
Fresh lime juice. Always use fresh lime (or lemon) juice in your hummus recipes. Bottled store-bought versions are not as bright and fresh as the real stuff.
Don't miss ground cumin. It gives your hummus that special rich and hearty touch.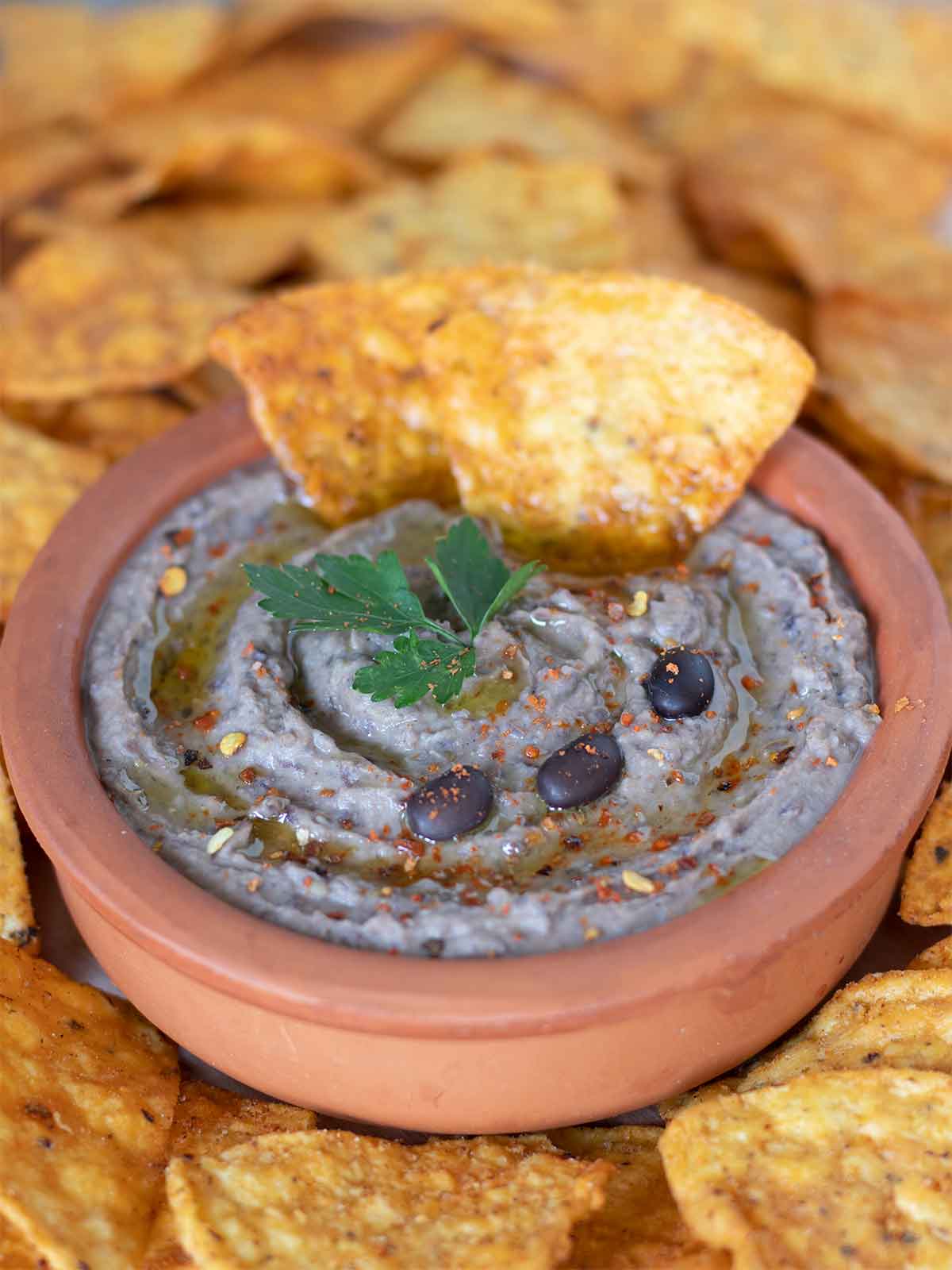 FAQ's
What to eat with black bean hummus
Because this simple hummus dip is endlessly versatile you can enjoy it as a low-calorie side dish, salad topping, or spread. You can serve it with fresh raw veggies as a kid-friendly snack, warm tortillas, crusty bread, pita chips, or crackers, spread it on sandwiches, wraps, tacos, or toast, or combine it with roasted potatoes and high-protein quinoa patties for a balanced meal coupled with fresh salad.
Is black bean hummus healthy
Of course, this protein-packed hummus is not only delish but it's also exceptionally nutritious. Black beans are a legume, also known as a pulse, with an impressive nutrition profile. They are loaded with plant-based protein, powerful antioxidants, fiber, and numerous vitamins and minerals like folate, copper, manganese, magnesium, and iron. In addition, tahini and extra virgin olive oil perfectly balance this dip by adding some healthy monounsaturated fats and antioxidants.
Is black bean hummus gluten-free
Yes, this hummus doesn't contain gluten so it can be a part of a clean gluten-free diet.
Can black bean dip be frozen
Sure, you can freeze this dip in a sealed freezer-safe container for up to 2 months. Be sure to label and date the container before putting it in the freezer. Thaw it in the refrigerator, for a few hours or remove it from the fridge the day before you plan to eat it. Once it's thawed, give it a good stir to bring back the desired texture.
Does black bean hummus have protein
Absolutely! Black beans are an exceptional source of plant protein. They boast high-quality protein that is easily digestible with 15 grams of protein in 1 cup (172 grams) of cooked black beans serving. They are a good substitute for animal protein and could be a great addition to your plant-based diet.
Did you try this easy black bean hummus recipe? How did you serve it?
I would greatly appreciate it if you have a minute to rate the recipe and leave a comment below. You can also share your photo on Instagram with the tag @go_eatgreen and hashtag it #go_eatgreen. We would love to see your creations! Thank you for sharing your experience with us, we are so grateful you are here 🙏
Follow Go Eat Green on Pinterest for more easy and delicious vegan recipe ideas.
Related
Looking for other recipes like this? Try these:
Pairing
These are my favorite dishes to serve with [this recipe]:
📖 Recipe