Best recipe for vegan cheese sauce ready in 5 minutes! No cashews, no potatoes, and no blender or food processor are required. Rich and creamy homemade cheese spread that's dairy-free, gluten-free, and full of flavor and nutrition. Moreover, this melty nooch cheese sauce is a phenomenal cheese alternative for pasta, nachos, lasagna, mac and cheese, pizza, toast, broccoli.
Bonus? It's super simple and easy to make in 1 pot with minimal ingredients at home.
Best Recipe For Vegan Cheese Sauce
Looking for the best cheese substitute? Love the texture and taste of melted cheese?
If you are vegan, lactose intolerant, have a dairy allergy, or just following a clean plant-based diet this recipe for vegan cheese sauce is for you. Because it's nut-free (doesn't contain cashews or any nuts), this tasty cheese dip sauce is a great option if you are allergic to nuts, as well. This smooth, soft, and melty cheese spread will bring a touch of cheesy flavor to your favorite savory recipes. Satisfy your cheese cravings with this quick fat-free vegan cheese spread and don't miss the regular cheese anymore!
Truly, this healthy cheese sauce will give a delicious golden hint to your meals. Both kids and adults will love it. What's more, it's not only easy to make but it's also cheaper and healthier than any store-bought version of it.
For another excellent cheese replacement, check out my homemade vegan parmesan cheese.
It's amazing what you can create with a handful of plant-based staples, don't you think?
Ready for the best vegan cheese sauce? Let's make it right away!
What Is Vegan Cheese Sauce Made Of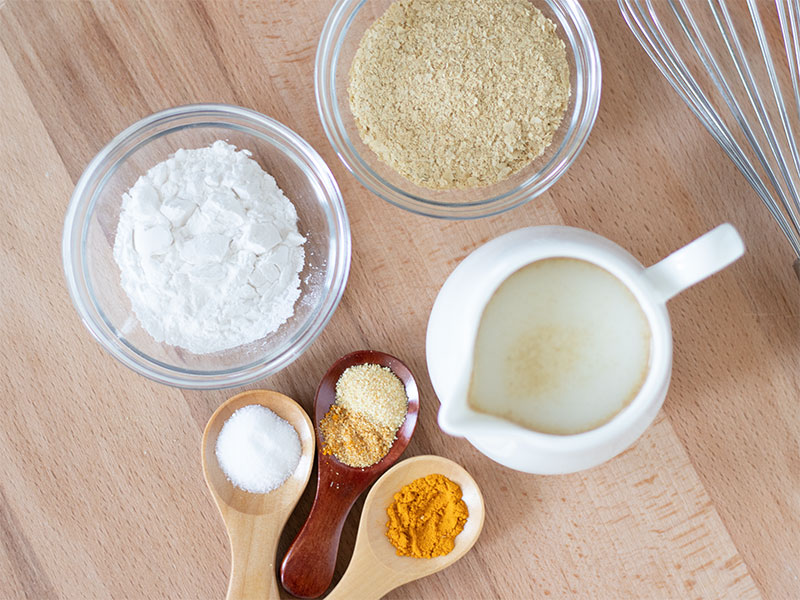 The ingredient list for this creamy cheese sauce is very short. All you need is:
Oat milk (or any plant-based milk like cashew milk or almond milk)
Nutritional yeast
Tapioca flour (tapioca starch)
Salt, turmeric powder, onion powder, garlic powder
As always, you can find the full recipe with a list of ingredients with measurements in a printable recipe card at the end of this post.
Time needed: 5 minutes.
How to make vegan cheese sauce without cashews?

Put all ingredients in a saucepan

In a small saucepan, whisk oat milk with nutritional yeast, tapioca flour, salt, turmeric powder, onion powder, and garlic powder.



Let it boil and whisk

Bring the mixture to a soft boil while stirring frequently then reduce the heat to low. Let it simmer for 2-3 minutes until the sauce is smooth and stretchy. Keep stirring constantly with a whisk while the sauce is simmering. Taste and adjust the seasonings as desired.



Serve and enjoy

That's it! Your creamy & gooey cheese sauce is ready to be enjoyed. Serve immediately or refrigerate for 3-4 days, covered in an airtight container. After storing, the texture will change, so it's best to reheat with a splash of milk on medium-low heat.


What To Use Vegan Cheese Sauce For
Our homemade cheese sauce is so versatile. You can use it in countless different ways:
Can you freeze vegan cheese sauce?
Sure! You can store it in a freezer bag or an airtight container and keep it in the freezer for up to 2 months. I recommend defrosting it in the fridge and then, heating it in a saucepan on the stovetop. Add a splash of plant milk and whisk until it's nice and creamy again.
How long does vegan cheese sauce last?
This homemade cheese sauce will last for 3-4 days stored in the fridge or up to 2 months if you keep it in the freezer.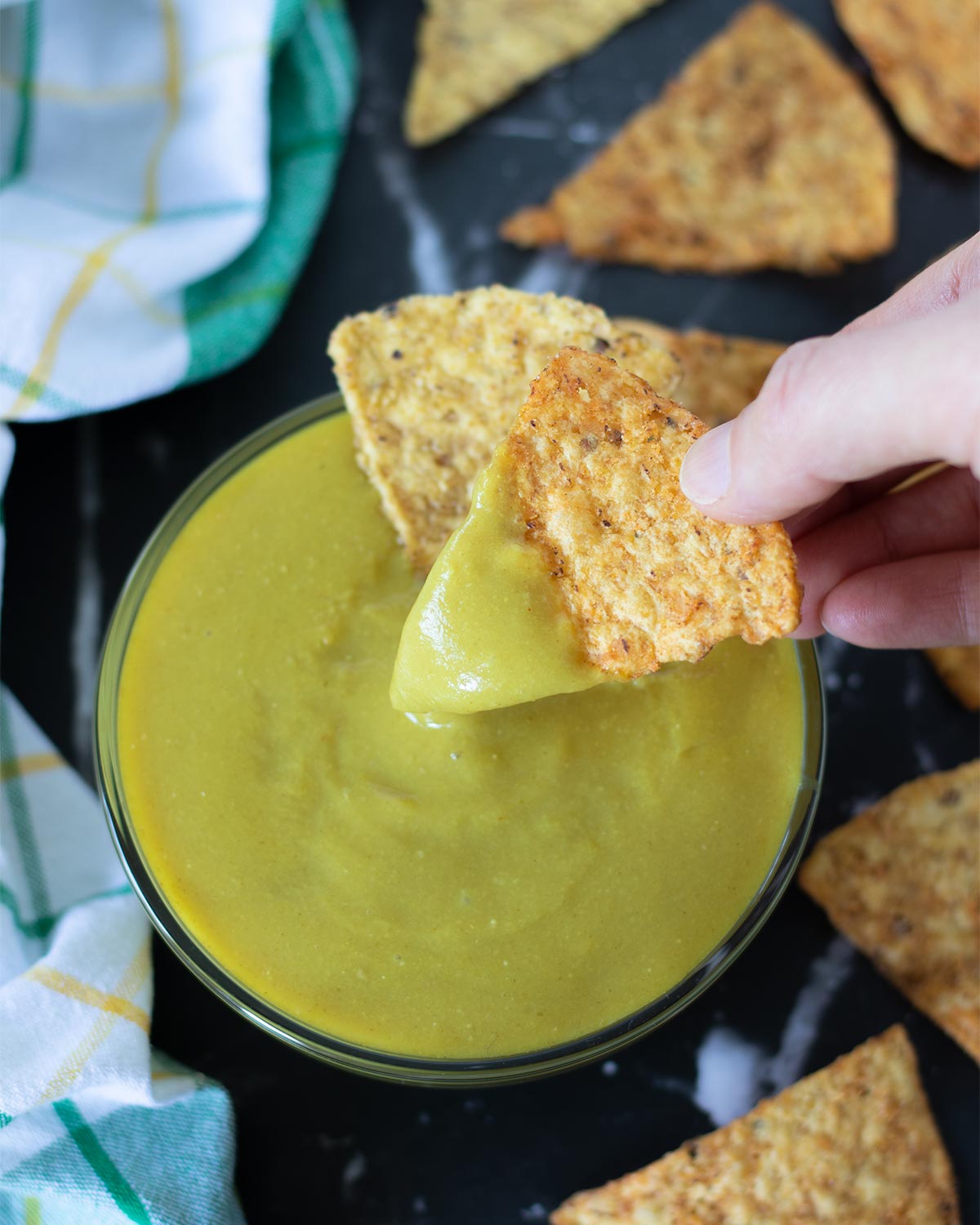 How do you make vegan cheese sauce taste like cheese?
The secret ingredient here is nutritional yeast. These unique golden flakes also known as "nooch" give our cheese sauce that strong umami taste that resembles cheese. Because of its yummy cheesy flavor nutritional yeast is used in many vegan recipes like dairy-free alfredo sauce or vegan scrambled eggs as a good substitute for cheese.
Is vegan cheese sauce healthy?
Absolutely! This non-dairy cheese sauce can be a part of a healthy clean eating diet. Unlike highly processed store-bought cheese sauces this vegan version is free of saturated fats and oils, contains ZERO cholesterol, and has significantly lower levels of sodium.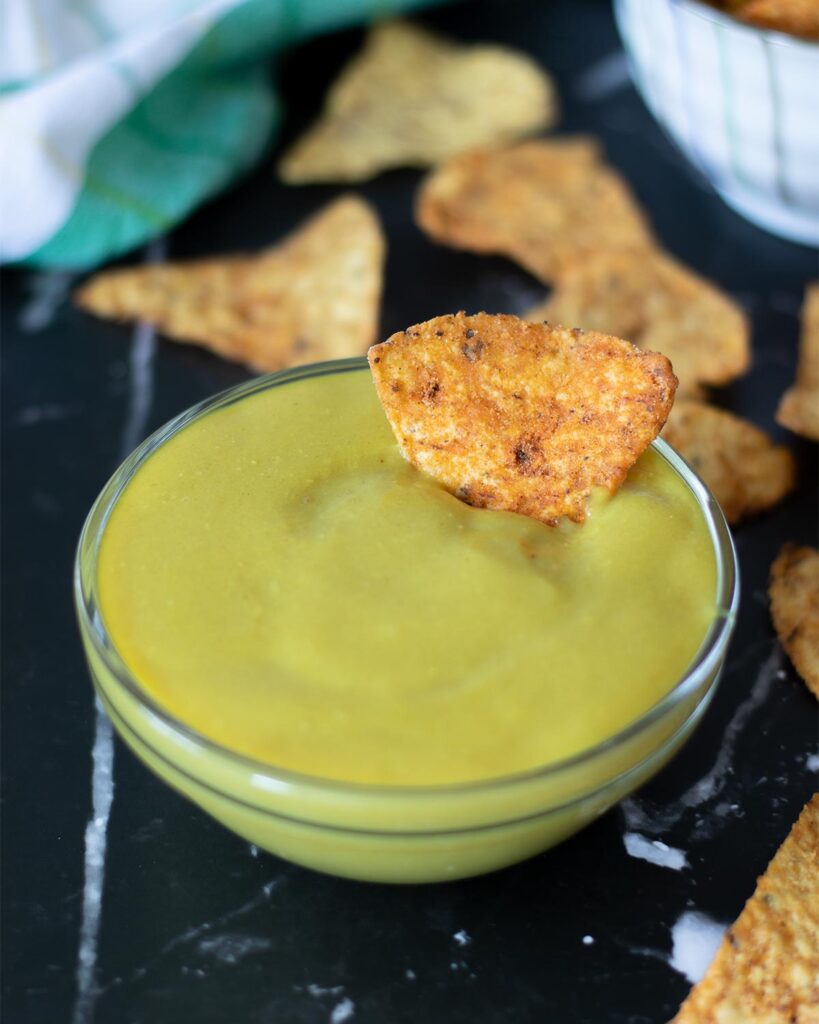 More DIY Sauces And Dips
📖 Recipe
Did you try this easy recipe for vegan cheese sauce? If yes, please rate it, leave a comment below, and share your photo on Instagram with the tag @go_eatgreen and hashtag it #go_eatgreen. I would love to hear about your experience and your comments just make my day!
Follow me on Pinterest for more easy and delicious vegan recipe ideas.
Love, Marinela💚