Jump to Recipe
Creamy Vegan Mushroom Polenta Recipe is the ultimate comfort food that is both satisfying and incredibly delicious. You can enjoy it as a savory breakfast, simple appetizer, filling side dish, healthy lunch, or hearty dinner. This humble polenta dish is completely plant-based, naturally dairy-free, gluten-free, and budget-friendly. Perfect warming meal prep idea for cold winter/autumn days!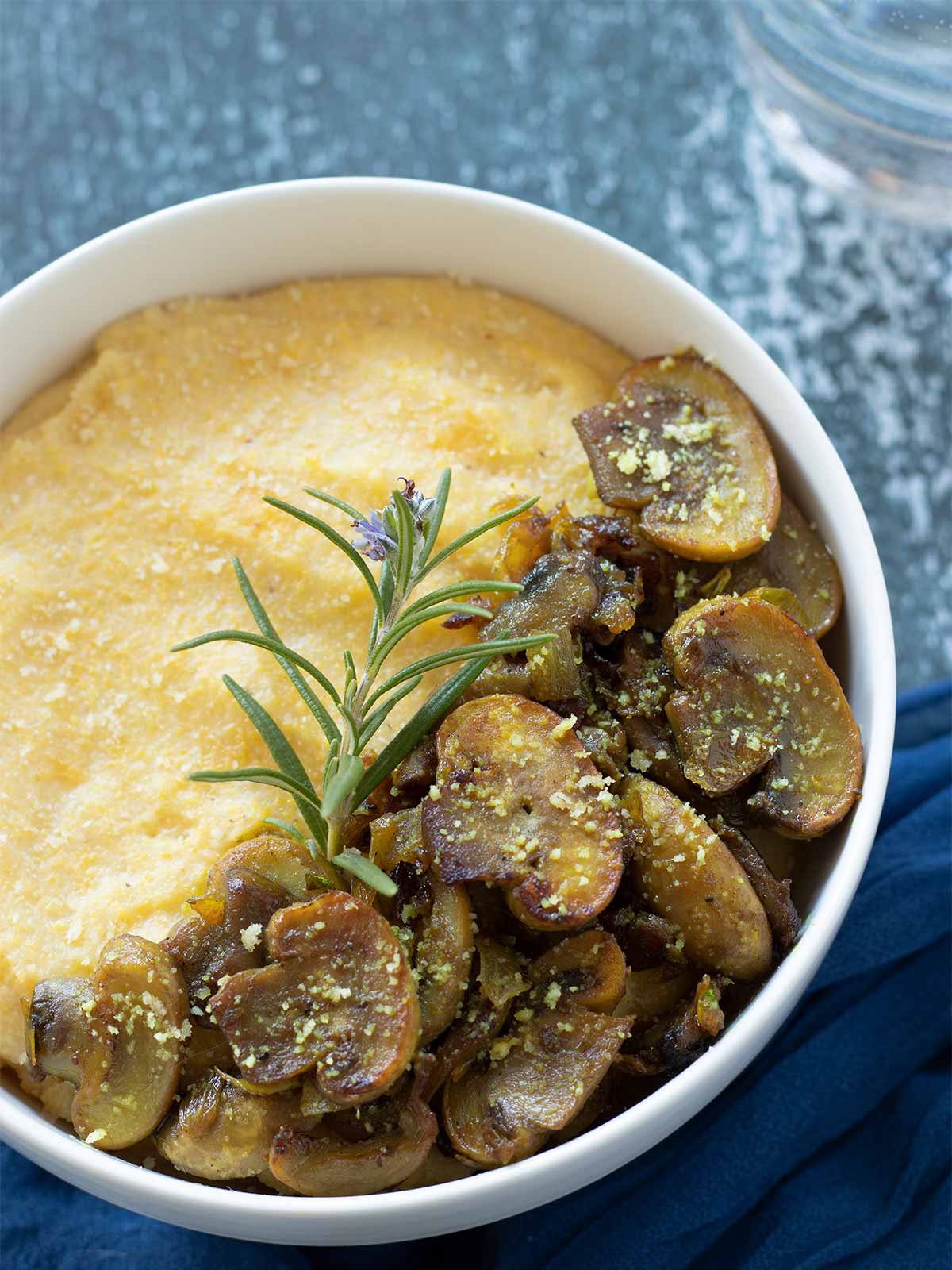 There is something special in making cozy foods you grew up on and really loved as a kid. They remind you of stress-free times while beautifully soothing your soul and nourishing your body.
When I was a child, I used to eat it with a slice of cheese and a big scoop of sour cream. Now I greatly enjoy it with my Homemade Vegan Parmesan Cheese and my Cashew Sour Cream. Yum-yum.
Just like my Red Lentil Soup or my Low-Calorie Potato Soup, this home-cooked warm polenta mushroom bowl abounds in flavor, color, and a loving velvety texture!
I'm sure this fast polenta meal will become one of those go-to recipes you turn to when you need something nourishing and tasty that the whole family loves.
Jump to:
What Is Polenta Made Of
Traditionally, as an ingredient, polenta is made from yellow corn that is coarsely ground into cornmeal. As a matter of fact, cooked polenta is an Italian-inspired inexpensive dish made by cooking ground cornmeal in salted boiling water (or water + milk). When grains absorb the liquid, they soften for a smooth and creamy consistency, just like porridge.
It's endlessly versatile and makes a wonderful gluten-free substitute for any dish that calls for pasta, rice, or mashed potatoes. You can serve it warm or chilled with sweet and savory additions, as well.
Is Polenta Good For Vegans
Absolutely! Polenta is a vegan and vegetarian-friendly food option you can safely add to your clean plant-based menu. Also, it's a good choice for people with gluten intolerances. What's best, it's widely available, cheap, and highly nutritious.
Mushroom Polenta Ingredients
You'll need wholesome inexpensive pantry staples to make this easy polenta recipe:
Polenta (coarsely ground yellow cornmeal)
Mushrooms (I used champignon mushrooms aka white button, you can use your favorite variety)
Cashew Milk (or any plant-based milk, I do not recommend coconut milk due to its strong taste)
Extra Virgin Olive Oil
Nutritional Yeast (optional but highly recommended to give a cheesy umami kick)
Onion (yellow, white, and red onion work for this recipe)
Garlic cloves
White Wine (if you want to make it alcohol-free simply substitute the wine with water or vegetable broth)
Fresh Rosemary
Bay Leaf
Salt, ground cumin, ground turmeric, freshly ground black pepper
As always, you can find the full recipe with a list of ingredients with measurements in a printable recipe card at the end of this post.
How To Make Creamy Mushroom Polenta From Scratch
Cook vegan polenta. In a medium-sized saucepan bring water and non-dairy milk to a boil. Once boiling, add ½ teaspoon salt, stir to dissolve, and turn the heat to low. Start pouring and whisking in polenta, slowly and constantly, over the course of about 1 minute to avoid any lumps. After mixing in all the polenta, continue whisking until it starts to thicken for 2-3 minutes.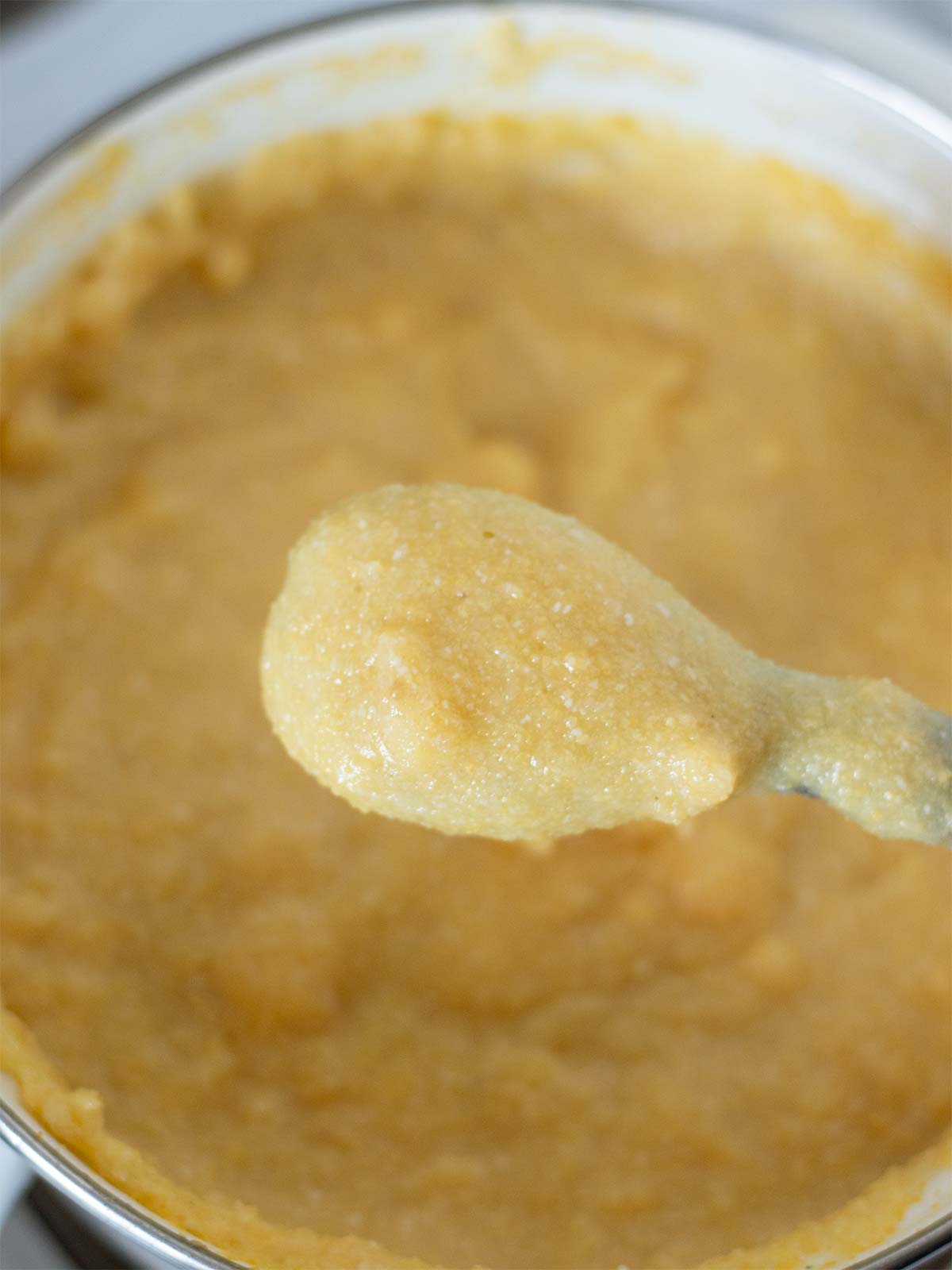 Stir in olive oil and nutritional yeast. Then, cover it with a lid and let it gently bubble for 25-30 minutes ( or according to package instructions) stirring occasionally. When your polenta has absorbed the liquid and is fully cooked, turn off the heat and stir in extra virgin olive oil and nutritional yeast (optional). Taste and add more salt/olive oil as per taste.
Cook onion and garlic. Meanwhile, in a large frying pan or skillet heat olive oil over medium-high heat. Add diced onion and sauté for 4-5 minutes until soft and fragrant. Add minced garlic and sauté for an additional 1 minute (be careful, garlic burns quickly).
Fry the mushrooms. Next, add sliced mushrooms along with the salt, fresh rosemary, ground cumin, turmeric powder, ground black pepper, and bay leaf. Cook, stirring occasionally, for about 5 minutes until mushrooms soften. Stir in white wine and cook for additional 5-10 minutes or until the liquid evaporates and the mushrooms are golden brown. Taste and add more salt if needed.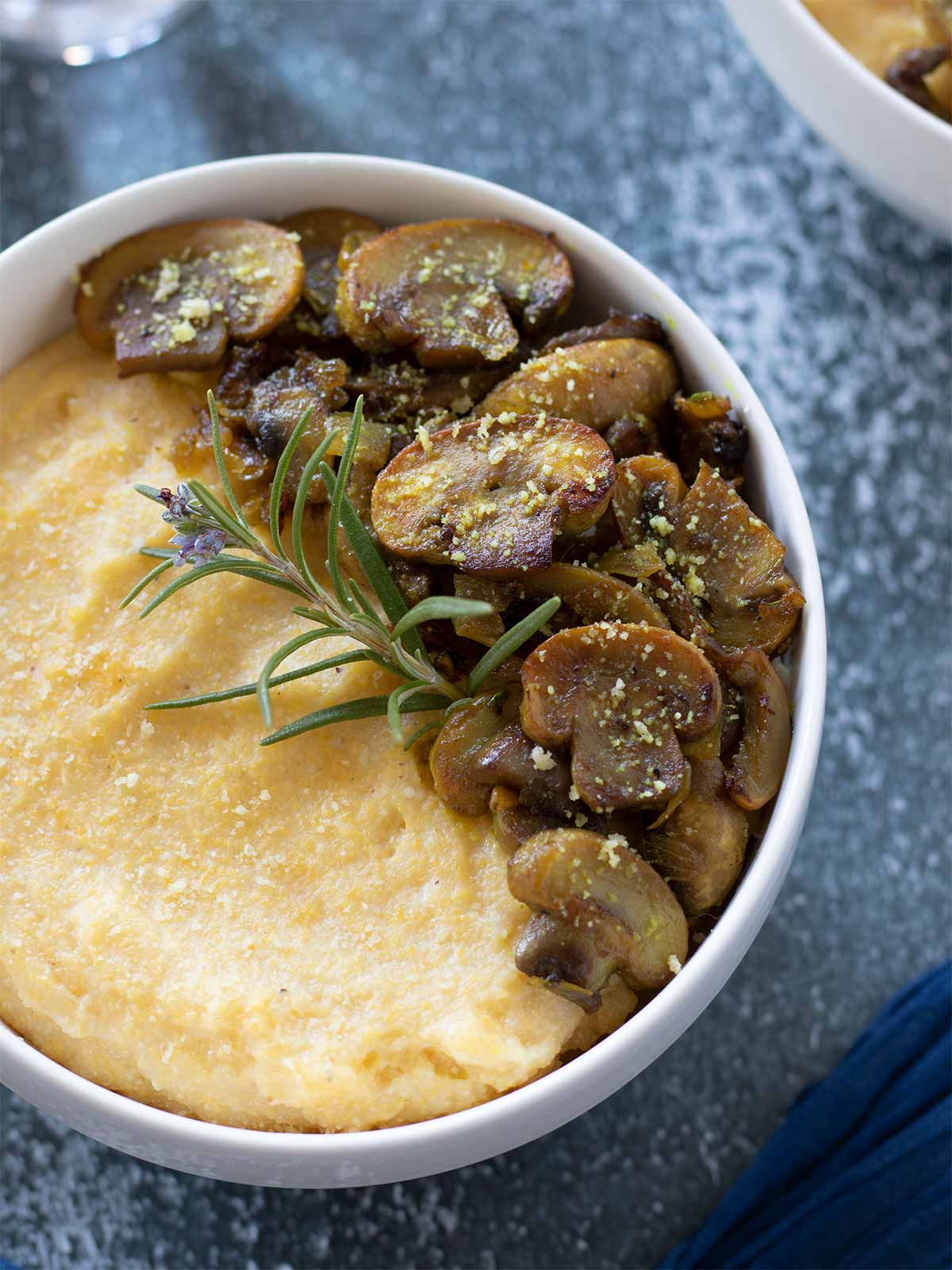 Serve and enjoy. Finally, assemble warm polenta in bowls and top with sautéed mushrooms. Serve with a big scoop of Vegan Sour Cream, sprinkle generously with Vegan Parmesan, and enjoy!
If you have leftovers, store sautéed mushrooms in an airtight container in the fridge for up to 24 hours, separate from the polenta. As for the polenta, let it cool completely before storing it in the refrigerator. Cover the polenta bowls with plastic wrap or keep it in an airtight container for up to 3 days. It will harden as it cools, so you can reheat it on low with water or dairy-free milk until it gets creamy again.
Substitutions
I love this recipe for mushroom polenta as it is written but here are a few ideas that work out great as substitutes for some of the ingredients.
Regular polenta - instead of regular coarsely ground polenta you can use instant (quick) polenta. If using this type of polenta make sure to cook it according to package instructions since it usually comes pre-cooked and its cooking time will be significantly reduced compared to traditional yellow cornmeal.
White button (champignon) mushrooms - instead of white mushrooms, you can use cremini mushrooms, portobello, shiitake, or oyster mushrooms. You can make a mix of your favorite types of mushrooms, as well.
Water/Plant-based milk - swap water or/and plant-based milk with vegan-friendly vegetable broth using the same ratio. Keep in mind that you may need to reduce or omit the salt if using vegetable broth.
Olive oil - vegan butter or vegan cheese is a great alternative to add richness to your polenta.
White wine- if you don't use alcohol, substitute white wine with vegetable broth or water.
Variations
Spicy - sprinkle your polenta mushroom with red pepper flakes to add a little heat to your dish.
Cheesy - stir in nutritional yeast flakes when fully cooked, drizzle it with Vegan Cheese Sauce, or sprinkle it with Vegan Parmesan Cheese.
Add extra protein - serve with smoked tofu or top with Crispy Roasted Chickpeas to make it more nutritious and yummy.
Storage
How to store polenta mushroom leftovers? Simply store sautéed mushrooms in an airtight container in the fridge for up to 24 hours, separate from the polenta. As for the polenta, let it cool completely before storing it in the refrigerator. Cover the polenta bowls with plastic wrap or keep it in an airtight container for up to 3 days. It will thicken as it cools, so you can reheat it on low with water or non-dairy milk until it gets silky creamy again.
Top Tips For Mushroom Polenta
4:1 ratio. Whatever liquid you decide to use, 4 cups liquid to 1 cup polenta is the best ratio to cook polenta on the stovetop.
Cook it completely. Some polenta brands take longer to cook depending on the grinding method. If your polenta grains aren't tender still, using this method, you may want to cook it a little longer. I recommend you check and cook it according to your package instructions. If you use quick (instant) polenta it may require only a few minutes to be prepared.
Pour out polenta very slowly to prevent clumping. It's very important to pour out polenta very slowly into the boiling liquid and whisk vigorously to break up any clumps.
Serve hot. For the best flavor and porridge-like texture, always serve while hot. Polenta thickens as it cools. Once cold you can slice it and serve it that way or use it for frying and baking, too.
FAQ
How do you know when polenta is cooked
How can you tell when the polenta is done? Polenta is fully cooked when its texture is smooth and creamy while the ground corn grains have fully absorbed the water and are soft and tender.
Can I eat polenta on a plant-based diet
Of course, polenta can be a healthy addition to your plant-based diet plan.
Is polenta gluten-free and vegan
Yes, polenta is naturally gluten-free and vegan. However, it is possible for cross-contamination to occur during manufacturing processing. So, if you are sensitive to gluten it's important to look for certified GF polenta to ensure that it is completely free from gluten.
What is the ratio of water to polenta
The classic ratio is 4 cups liquid (water + plant milk) to 1 cup polenta.
Is polenta good for fat loss
Polenta is low in calories and low in fat thus making it a great choice if you want to maintain or lose weight. Besides that, it is an excellent source of complex carbohydrates, protein, and dietary fiber. Coupled with nutrient-rich additions to make it an entirely balanced meal it can be a healthy food option to support your weight-loss goals.
Is polenta a healthy breakfast
Yes, you can serve polenta with sweet or savory additions as a replacement for overnight oats or vegan scrambled eggs. It is a must-try comforting dish, especially for cold & rainy winter days.
More Comfort Food Recipes
Pairing
These are my favorite dishes to serve with this mushroom polenta recipe:
📖 Recipe
Did you try this creamy mushroom polenta? How did you serve it?
I would greatly appreciate it if you have a minute to rate the recipe and leave a comment below.
You can also share your photo on Instagram with the tag @go_eatgreen and hashtag it #go_eatgreen. We would love to see your creations! Thank you for sharing your experience with us, we are so grateful you are here 🙏
Follow Go Eat Green on Pinterest for more easy and delicious vegan recipe ideas.