Vegan parmesan cheese is the best dairy-free alternative to finely grated parmesan. This simple recipe made with whole foods is extremely easy to make in less than 5 minutes (no soaking required) and it tastes like the real thing.
In addition to being plant-based, gluten-free, lactose-free, and soy-free this homemade vegan parmesan cheese has an amazing crumbly texture and incredibly addicting cheesy flavor.
If you are vegan, lactose intolerant, trying to cut down on dairy, or simply pursuing a clean eating diet this cashew parmesan recipe is for you. Don't miss a fresh sprinkle of parmesan on your pasta or pizza ever again!
Recipe for Vegan Parmesan Cheese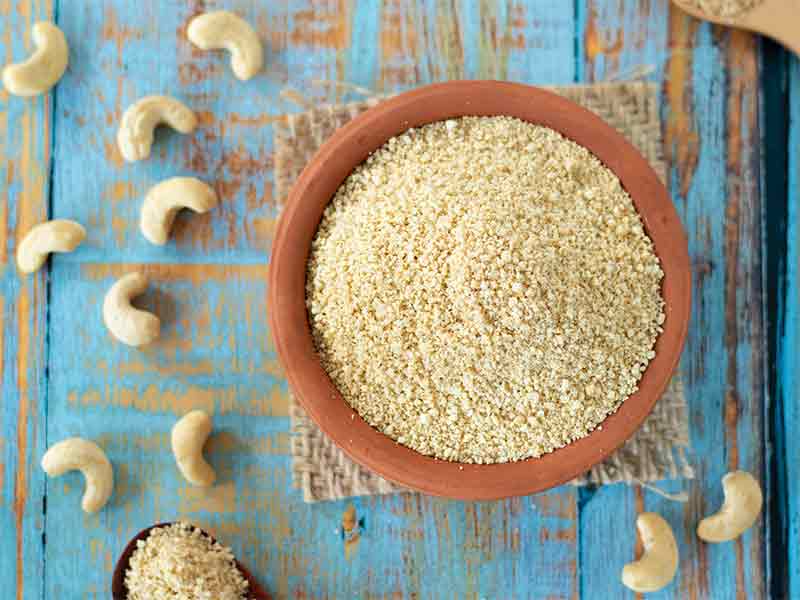 This plant-based cheese is so close to the original version, you can hardly tell the difference. Thanks to the unique savory flavor of nutritional yeast, this vegan parmesan perfectly resembles grated cheese. Although it doesn't melt, it is a wonderful replacement for cheese in many recipes. You can use it as you would regular parm with the exception of any baking recipes. If you need it for baking, I recommend you always add it after the dish is out of the oven for the ultimate flavor and texture.
Add an extra layer of flavor to your meals with a generous sprinkling of this quick DIY parm cheese. It'll surely make your dishes special and more satisfying.
You should give it a try with my vegan scrambled eggs or this filling pasta salad. Enjoy the fantastic taste!
Does Vegan Parmesan Taste Good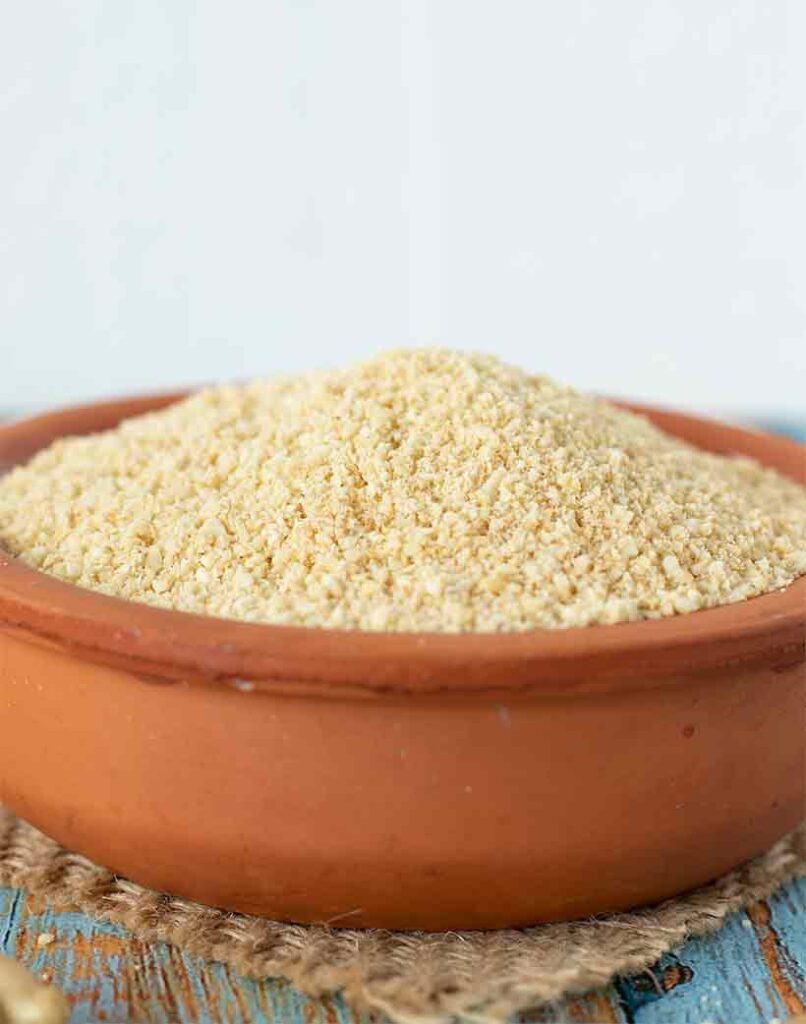 Ever wondered how to make vegan homemade parmesan cheese?
Frankly, when I first made it, I thought I would be the only person in my house eating this vegan parmesan cheese. I thought my batch will last for a couple of weeks since nobody would love to even try my "new parmesan creation".
To my surprise, this organic cashew-based parmesan turned out to be a real crowd-pleaser. Firstly, we spread it on creamy baked spaghetti with tomato sauce and it was so good! My family enjoyed it so much, that it disappeared super fast. Even my sister loved it, thus making this recipe a picky eater approved. Now, it's a must-have staple in our home. Hope you family will love it, too.
Of course, you can purchase store-bought non-dairy parmesan but making it at home is much cheaper and faster. I can't stress enough how much better is this dairy-free parmesan cheese compared to a ready-made one. All you need to do is put all the ingredients in a high-powered blender or food processor, blitz a few times and you're done.
Truly, you can add a surprisingly delicious kick to your meals with this inexpensive homemade condiment that is both healthy and tasty!
Vegan Parmesan Cheese Ingredients
What is vegan parmesan made of? You will need only 5 animal-friendly staples to make this budget-friendly condiment that is a wonderful substitute for grated dairy cheese. Here they are:
Raw cashews (unsalted) - to provide a soft, nutty base
Nutritional yeast - the secret ingredient for adding pleasantly cheesy notes
Garlic powder, onion powder, and fine sea salt - essential ingredients to enhance the flavor
As always, you can find the full recipe with a list of ingredients with measurements in a printable recipe card at the end of this post.
Time needed: 5 minutes.
How To Make Homemade Parmesan Cheese?

Process all ingredients

Put all ingredients in a food processor or high-powered blender and make short pulses until you get a coarse meal with a crumbly texture. Taste and add more salt if needed. Be careful not to over-process the mixture because it will turn into clumpy cashew paste!



Enjoy immediately or store for later

Serve your homemade vegan parmesan immediately or store it in an airtight container in the fridge to keep it fresh. It will last for 3-4 weeks.


What Is Nutritional Yeast
Nutritional yeast (also known as "nooch") is a deactivated form of yeast that is an excellent source of vitamins and minerals. It has an intense cheesy, nutty, umami flavor and a golden-yellow color. It's a vegan-friendly condiment that is widely used as a cheese substitute in many plant-based recipes.
Is vegan parmesan dairy-free?
Sure, this recipe for vegan parmesan cheese is completely dairy-free. You can safely eat this plant-based parmesan if you are intolerant to lactose, have a dairy allergy, or simply want to avoid dairy products.
Does vegan parmesan cheese melt?
This vegan parmesan with nutritional yeast doesn't melt but it's perfect to include in many savoury dishes like pasta, salads, soups, roasted vegetables, or pizza.
How long does vegan parmesan last in the fridge?
To preserve its freshness you should keep your dairy-free parmesan in an airtight container, in the fridge for 3-4 weeks (or more).
Can I make it nut-free?
Sure, you can use raw sunflowers seeds, hemp seeds, or pumpkin seeds (pepitas) in the same quantity instead of cashews. It's best to use unsalted seeds for this recipe.
What to Do With Vegan Parmesan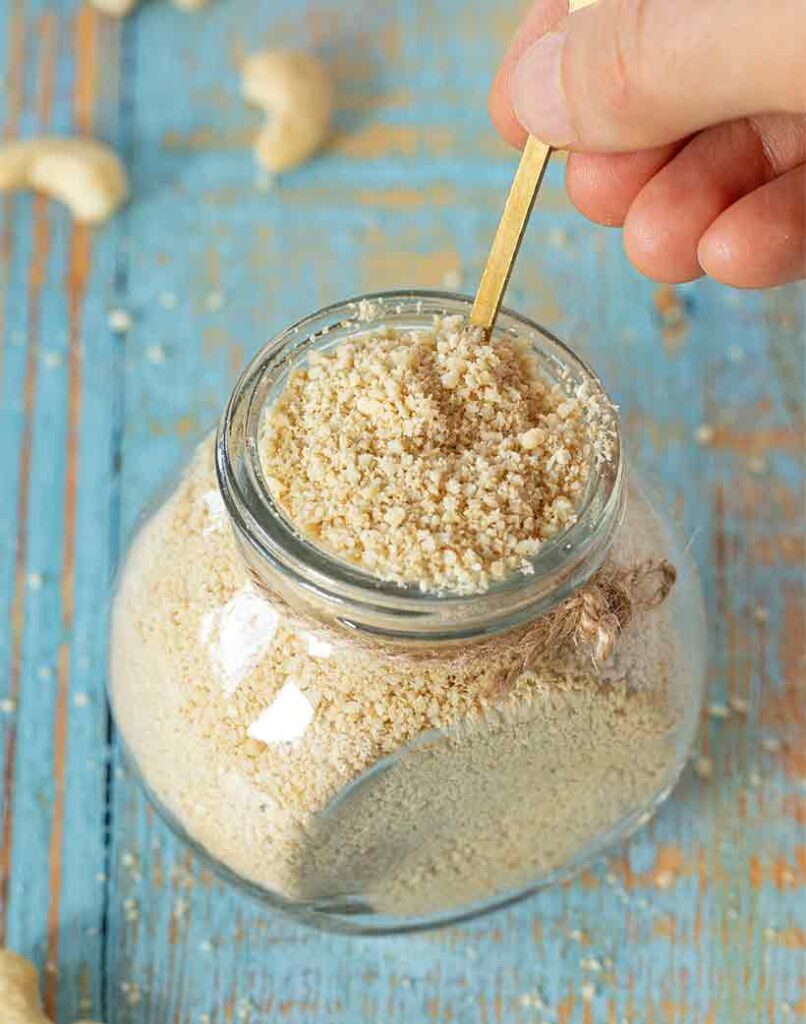 Don't forget to pin or share this post so you'll have this easy DIY parmesan recipe ready when you need it!
Did you try this easy vegan parmesan cheese recipe? If yes, please rate it, leave a comment below, and share your photo on Instagram with the tag @go_eatgreen and hashtag it #go_eatgreen. I would love to hear about your experience and your comments just make my day!
Follow me on Pinterest for more easy and delicious vegan recipe ideas.
Love, Marinela💚