Jump to Recipe
Blueberry Lemon Overnight Oats is a fantastic vegan make-ahead breakfast recipe (without yogurt) for healthy gut and weight loss. It's entirely plant-based, naturally gluten-free, and dairy-free. Best of all, it's perfectly refreshing, vibrantly creamy, and incredibly tasty!
The secret for this vivid purple color? We'll make our homemade blueberry lemon milk before mixing in the rest of the wholesome ingredients and popping it into the fridge.
Ready for the best clean and nourishing morning meal prep that is not complicated and requires no cooking at all?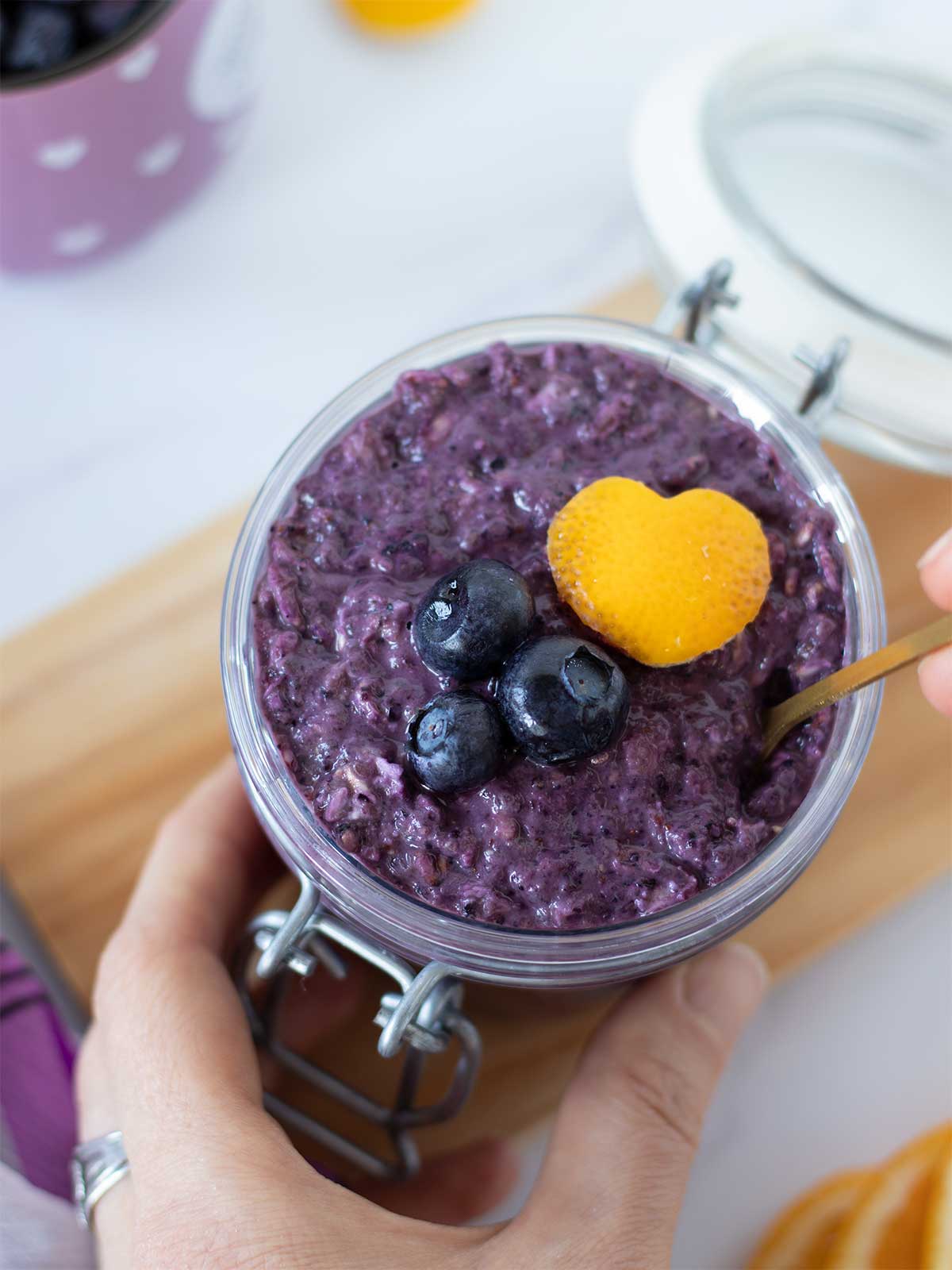 Sweet, simple, and sophisticated, this colorful jar of a chilly lemon blueberry combo will be waiting for you when you wake up in the morning for a ready grab-and-go breakfast to start your day bright and shiny.
For a super customizable overnight oats recipe check out the most popular post on the blog for basic overnight oats for weight loss.
What's more, this easy overnight oats recipe is full of good-for-you whole foods that are rich in plant protein, dietary fiber, and disease-fighting antioxidants.
Definitely, these glowing blueberry overnight oats could be a hearty kid-friendly snack for school or a yummy treat for a picnic day.
If you love blueberries as much as I do you will surely like my Blueberry Spinach Smoothie or these Moist Blueberry Muffins.
Jump to:
Ingredients
You'll need a few inexpensive pantry staples to whip up this delicious velvety mixture with stunning violet color:
Blueberries (fresh or frozen, I used frozen)
Lemon (freshly squeezed + zest)
Rolled / Old-Fashioned Oats (certified gluten-free)
Chia Seeds
Oat Milk (or your favorite dairy-free milk)
As always, you can find the full recipe with a list of ingredients with measurements in a printable recipe card at the end of this post.
Instructions
Make blueberry-lemon milk. In a high-speed blender combine oat milk, frozen blueberries, pure maple syrup, lemon juice, and peanut butter. Blend until smooth and frothy.
Stir and let it soak in the fridge. In a bowl or mason jar mix blueberry-lemon milk together with rolled oats, chia seeds, and lemon zest. Stir well everything together until oats and chia seeds and completely covered with the liquid.
Cover with a lid or plastic (or aluminum) foil and let the oats soak overnight in the fridge.
Add toppings and enjoy. In the morning, give the mixture a good stir again. If it is too dense add a few splashes of milk. Top it with more blueberries or fresh fruit you desire. Dig in and enjoy!
Substitutions
Missing an ingredient? Don't worry, this frozen blueberry overnight oats recipe is easily customizable. Here are some suggestions:
Rolled Oats - instead of rolled oats you can use quick/instant oats. However, they will be soggy and won't have much texture. I don't recommend steel-cut oats for this recipe.
Oat Milk - you can use Almond Milk, Cashew Milk, coconut milk, soy milk, or water.
Chia Seeds - replace chia seeds with flaxseed meal (ground flax seeds), hemp seeds, or pumpkin seeds (pepitas).
Peanut Butter - swap PB with Cashew Butter, almond butter, or coconut butter.
Maple Syrup - you can blend in 1-2 dates, agave nectar, or ½ banana in the blueberry milk to add natural sweetness.
Variations
This recipe is incredibly versatile here are some variations you can make:
Vegan Yogurt - you can add non-dairy yogurt to make it extra thick and creamy.
Protein Powder - for a boost of protein you can your favorite vegan-friendly protein powder.
Homemade Granola - stir in crispy granola for additional flavor and nutrition.
Nutty - mix in chopped hazelnuts, almonds, or walnuts for crunch and heart-healthy fats.
Storage
Your blueberry lemon overnight oats are great to make ahead and be stored for later. They will last for 4-5 days in an airtight container in the refrigerator.
Top Tips
Use only plain rolled oats without added artificial flavors, colors, or sugar.
This recipe makes one serving, you can increase the ingredient quantities to make a large batch.
Omit the lemon zest if your lemon peel has a bitter taste.
Since the mixture is not too sweet, feel free to add an additional tablespoon of maple syrup or another sweetener of choice to make it suit your taste.
The best way to make the overnight oats is to let them soak overnight but if you are short on time you can soak them for at least 2 hours.
FAQ
What are overnight oats
Overnight oats are oats that are left to soak in liquid (milk or water) in the fridge all night long. This simple nutritious meal doesn't require any cooking or heating up.
How many hours is best for overnight oats
The common question is what is the minimum time to soak overnight oats. Even though it is best to let the oats soak overnight, if you are in a rush, I recommend you wait for at least 2-3 hours to allow the oats fully soften and hydrate.
How many calories are in blueberry overnight oats
This cold satisfying meal contains 472 calories per serving.
Can you eat overnight oats warm
Of course, if you love eating your overnight oats warm simply heat them in the microwave or on the stovetop over medium heat until nicely warmed up and ready to eat. You may need to add more liquid to your oats mixture and constantly stir to prevent sticking.
What is the best liquid for overnight oats
Certainly, plant-based milk is the best liquid to make overnight oats. You can use any type of milk like almond milk, oat milk, cashew milk, or soy milk. Alternatively, soak rolled oats with other additions of choice in cold water. In addition, you can mix in some dairy-free yogurt or mashed banana for creaminess.
Are 2 hours enough for overnight oats
Although overnight oats are usually soaked overnight don't worry if you forget to prepare them the night before. They may not be as thick and velvety as overnight oats that have soaked longer but they are still delicious even if you soak them for at least 2 hours.
Are overnight oats a good source of protein
Absolutely! Rolled oats are an excellent source of quality plant protein if you are looking to boost your protein intake without meat or dairy. Also, they are rich in healthy carbs and essential nutrients like gut-filling soluble fiber (beta-glucan), manganese, copper, phosphorus, magnesium, and Vitamin B1.
Can oats reduce belly fat
Yes, oats can be an outstanding fat-burning superfood only if you combine them with diverse nutrient-dense foods to make a well-balanced meal. This low-calorie staple is highly beneficial for your overall health, especially for your gut and digestive tract. Because oats are packed with an abundance of fiber and natural protein, they can help you feel full for a longer period of time and will surely aid your flat belly and weight loss goals.
Related
Looking for other recipes that use rolled oats? Try these:
Pairing
These are my favorite add-ins for this recipe:
📖 Recipe
Did you make this blueberry lemon overnight oats recipe?
I would greatly appreciate it if you have a minute to rate the recipe and leave a comment below. You can also share your photo on Instagram with the tag @go_eatgreen and hashtag it #go_eatgreen. We would love to see your creations! Thank you for sharing your experience with us, we are so grateful you are here 🙏
Follow Go Eat Green on Pinterest for more easy and delicious vegan recipe ideas.