Jump to Recipe
This recipe for vegan spaghetti makes the best quick and easy weeknight dinner. Healthy meal idea for busy moms to feed the whole family.
Eat green and clean because healthy never tasted so good!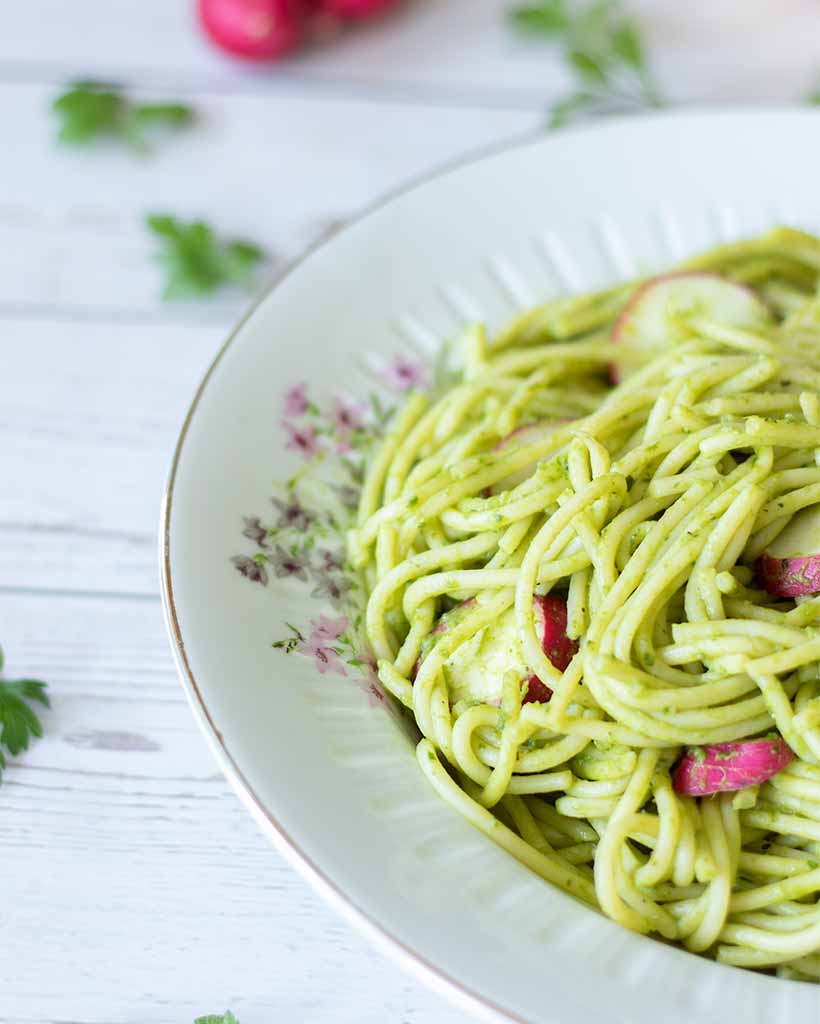 I absolutely love veggie pasta dishes! Don't you? It's the simplest and most delicious way to eat your greens just like this comforting 1 pot soup. This homemade vegan spaghetti is one of those meals that will keep you full and satisfied without gaining weight. Super awesome!
What happens when you eat greens every day
There is something special and delightful in eating all that God made plant-based food full of vitamins, minerals, and antioxidants. It gives you energy, makes you stronger while renewing your body and mind. You cannot get all these essential nutrients from other foods except plants. All-natural, organic food supports your immune system, detoxifies your body, and reduces the risk of cardiovascular diseases, type 2 diabetes, and various types of cancer.
How do I eat my greens
Make green shine in new, tasty ways! Like this easy vegan spaghetti dish, there are so many ways to incorporate your greens into your daily diet. Start your day with this perfectly green smoothie without sugar or this fat-burning smoothie. You can make a refreshing salad, cozy stew for lunch, rich avocado dip for your toast, even fluffy breakfast pancakes! Mmm yummy!
Vegan Spaghetti with Vegetables
I know it's difficult to find tasty vegetable recipes for kids that they'll actually love. If my cousin who is one of those picky eaters ate this creamy spaghetti dish without meat in minutes, I'm sure it'll become your kids' favorite too!
With minimal preparation and a few simple ingredients, you will have the most wonderfully filling and enjoyable family dinner after a busy workday at the office or home.
Plus, it's an easy-to-make meal prep in large quantities, perfect to make for potlucks or family gatherings. It's cheap, quick, and incredibly appetizing.
What is in vegan spaghetti?
This meatless pasta recipe requires only wholesome, nourishing ingredients you probably have in your kitchen:
A pack of spaghetti (17.5 oz / 500 gr) - regular, whole wheat or brown rice spaghetti

Avocado (1 big or 2 small avocados) - great way to use up under or over ripe avocados

Arugula

Fresh parsley

Swiss chard

Radishes

2 small garlic cloves

Lemon juice

Extra virgin olive oil

Water

Salt, cumin powder, freshly ground black pepper - for infusing that fantastic flavor
As always, you can find the full recipe with a list of ingredients with measurements in a printable recipe card at the end of this post.
Time needed: 15 minutes.
How do I cook green spaghetti from scratch?

Making pasta loaded with nutrient-dense vegetables is our favorite weeknight-friendly dish. This flavor-packed vibrant plate is almost effortless to make. Can you believe it is ready in 15 minutes or less?

Cook the spaghetti

First, cook the pasta according to the package instructions.

Make the sauce

While the pasta is cooking, blend all the ingredients (the veggies, olive oil, water, and seasonings) in a blender or food processor. Blitz until smooth and creamy. If you don't have a blender simply put the ingredients in a bowl and puree the sauce with a handheld immersion blender.

Mix it all

In the end, drain the spaghetti. Transfer the sauce to the cooked spaghetti pot while still hot. Mix it all well until spaghetti is evenly coated with the raw green sauce. Serve it immediately with vegan feta cheese or parmesan and enjoy!
I hope you will LOVE this recipe for vegan spaghetti made in 1 pot. It's:
Vegan and vegetarian

Dairy-free

Egg-free

Soy-free

Meat-free

Kid-friendly

Family-friendly

Savory

Budget-friendly

Bursting with Mediterrnean flavor
More Weeknight Dinner Recipes
Love this quick spaghetti recipe? Pin it for later!
Made this recipe for vegan spaghetti? If yes, please rate it, leave a comment below, and share your photo on Instagram with the tag @go_eatgreen and hashtag it #go_eatgreen. I would love to hear about your experience and your comments just make my day!
Follow me on Pinterest for more easy and delicious vegan recipe ideas.
Love, Marinela💚